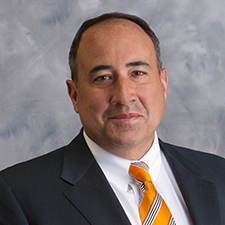 Charles W. McDaniel
President and Chief Executive Officer
Charles W. McDaniel has served as Hilldrup's President and Chief Executive Officer since 2005, after having been involved in some capacity with virtually every aspect of the company since he was 12 years old. Hilldrup was founded in 1903 in Fredericksburg, Virginia, and Charles is the company's fourth president.
Under Charles' leadership, Hilldrup has grown annual revenues to over $120 million and has diversified Hilldrup's portfolio of business lines to now include moving & storage, international, commercial & logistics, relocation and properties.
Charles, a Fredericksburg, Virginia native, is active in the professional community and currently serves as vice chairman on the Board of Directors for UniGroup, having been elected to the board in 2015 and was re-elected in 2017 and again in 2019.  In many ways, Charles has championed the strategic leadership of the UniGroup organization, including being a part of its Strategic Council and serving on the search committee for UniGroup's current President and CEO, Marc Rogers. Prior to his tenure on the board, Charles served for over six years on UniGroup's advisory board.  His involvement also includes serving on UniGroup's Business Improvement Group, Relocation Committee, Marketing Committee and Information Technology Advisory Council.  Charles is a current member of United Van Lines' Masters Club and the Employee Relocation Council.
Outside of the industry, Charles presently serves on the Board of Managers for the University of Virginia's Alumni Association, the Rappahannock Regional Boys and Girls Club of Fredericksburg, the BB&T Bank Advisory Board and the Stafford Hospital Foundation Board.
Charles previously served in leadership positions for the Virginia Athletics Foundation, City of Fredericksburg Parks and Recreation Commission, Virginians for Child Abuse Prevention and the 600 Rugby Road Housing Corporation, among others.
He is currently a member of the Virginia Reel, the Commonwealth Club and the Historic Fredericksburg Foundation, Inc.
Charles graduated with a bachelor's degree from the University of Virginia in 1986. While at the University of Virginia, Charles was a record-setting linebacker and team captain for the Cavalier's football team.
Charles and his wife Tricia have two children, Jordan and Charlie, who both work at Hilldrup. He enjoys traveling, running, fishing, hunting and all University of Virginia athletic events, particularly Cavalier football.