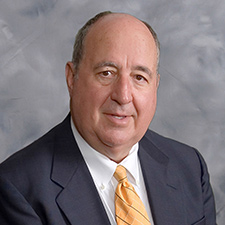 Charles G. McDaniel
Chairman
From 1976 to 2005, Charles G. McDaniel grew Hilldrup to one of the largest and the most honored agency groups in the moving and storage industry, grossing $100 million in annual sales during his time as President. Prior to that, he worked at various positions in the company after his father, Charles B. McDaniel, bought the company in 1940. Charles was named Chairman in 2005 when his son, Charles W. McDaniel, was named President.
He has served on the board for UniGroup Worldwide UTS and as Chairman of the American Moving and Storage Association. Charles served on the UniGroup Inc. Board of Directors for 22 years, from 1976-1998. Charles has also served in leadership positions for the Virginia Trucking Association, Virginia Movers and Warehousemen's Association and National Motor Carrier Advisory Committee for the United States Department of Transportation.
Charles G. McDaniel currently serves as a board member for Virginiaforever and Hylton Enterprises.
Charles has routinely given back to the Fredericksburg community, serving on a variety of boards and executive committees for various organizations including the Virginia Chamber of Commerce, the Fredericksburg Area Museum and Cultural Center, the James Monroe Law Office Museum and Memorial Library, the Fredericksburg Regional Alliance, the Fredericksburg Chamber of Commerce, the Board of Regents for the James Monroe Law Office Museum and Memorial Library, the Mary Washington College Foundation, the Mary Washington Hospital Foundation, the Historic Fredericksburg Foundation, Fredericksburg Country Club and the Fredericksburg Chamber of Commerce. He also served as chairman of the Virginia Department of Game and Inland Fisheries.
A graduate of the School of Business Administration at the University of Richmond, Charles has received many honors for his achievements including the State of Virginia Health and Human Services Commissioner's Award and the Citizen Salute Award for Significant Contributions to the Community.
Charles and his wife, Mary Wynn, have three children, Charles W. and William R. of Fredericksburg, and Elizabeth M. Wallace of Richmond. With a keen interest in history, he has restored the McDaniel family home, an 18th Century historic landmark referred to as "The Sentry Box." He collects Civil War carbines and enjoys hunting, fishing and music.