September 19, 2014
The future of moving: Container shipping and storage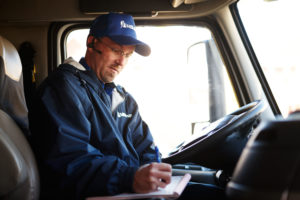 Our customers' expectations are simple – they expect their belongings to get from their old home to their new home, quickly, safely and without incident. By and large, this process involves a crew packing and loading everything onto a truck, then the van operator hitting the road to the new destination. However, no business is immune to change and the moving industry is no exception.
One area where we see the moving industry changing is how your belongings get to your new home, and that's using containers. While shipping containers aren't a new technology, they haven't been widely seen in the domestic moving industry. Anyone who's worked with Hilldrup knows how serious we take providing excellent service to our customers, and no change we make is solely for our benefit. The rise of container shipping and storage has some inherent advantages for our customers, which we wanted to outline:
Cost-effective container shipping: Things can be consolidated using containers and that helps to maximize the use of space. The higher the price of gas, the more it costs van operators to get your belongings to your new home. Space is a commodity, so consolidation allows us to maximize this resource.
More delivery date flexibility: While we continually hire the best in the business, containers also limit the impact the driver shortage could have in the future on scheduling moving and delivery dates. With containers we will be able offer flexible one day delivery dates, that way our customers can select a day that works better for them.
Same service: Whether we ship our customers' belongings on a truck or container, they will always receive the same personal attention from our move coordinators and the same benefit of having knowledgeable and attentive van operators to pack, load and delivery everything safely. The changes associated with container shipping and storage all would happen "behind the scenes," all to the benefit of our customers.
This is something you'll probably start to hear more about, and we wanted to make sure you know what's coming. We're constantly looking at trends, customer preferences and new technologies to make sure we're never doing things just because it's how we've always done them. Just like our customers, we always want to be moving forward.
CATEGORIES: