May 19, 2016
Updating with Updater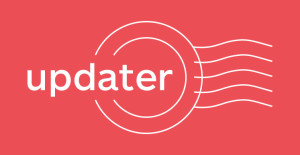 Moving is exciting. You're off starting a new chapter in your life and figuring out what to do in your new home. What is less exciting is making sure your family and friends have your new contact information, forwarding your mail and getting your utilities switched over – all those pesky details.
In years past, taking care of these to-dos meant a lot of phone calls, for which you didn't necessarily have time. Fortunately, there's a new service that helps tackle all of these in a few simple steps – Updater.
Aptly named, Updater is a simple-to-use online tool that we've started making available to our residential customers to help alleviate some of the tediousness that comes with certain parts of the moving process. (If you manage your company's relocations, we can also make this available to your employees. Just let your client services representative know!)
Some of the tasks Updater can help with include:
Move announcements: Making a big deal about your news is fun, but finding the time to design a cool move announcement can be tricky with everything else you have going on. In just a few clicks, Updater can send a graphic notification alerting your contacts where you're heading!
Mail forwarding: No need to go to the post office or USPS.com, Updater also will make sure your mail gets forwarded to your new home.
Update accounts: Mail forwarding only works for 12 months, so it's also important to update any accounts that you receive mail from (magazines, memberships, etc.). Updater will help you contact each of those as well so you don't miss out on anything important.
Utilities: It's not really a home until you have lights, water and WI-FI. Updater connects you with the utilities serving your new home to get everything set up.
There's a lot to look forward to with moving to a new home. Getting accounts set up and updating your address in three dozen places are not among those things. Our job is always to help make your move as simple and seamless as possible, and we hope you'll find Updater to be one more example of that promise!
CATEGORIES: