Designing a Flex Space for Your Home
Just like moving, reimagining an existing home can be an exciting way to embrace a new life stage. If you have more needs than you have rooms, flex spaces are effective at making your home feel bigger and more functional than it has before.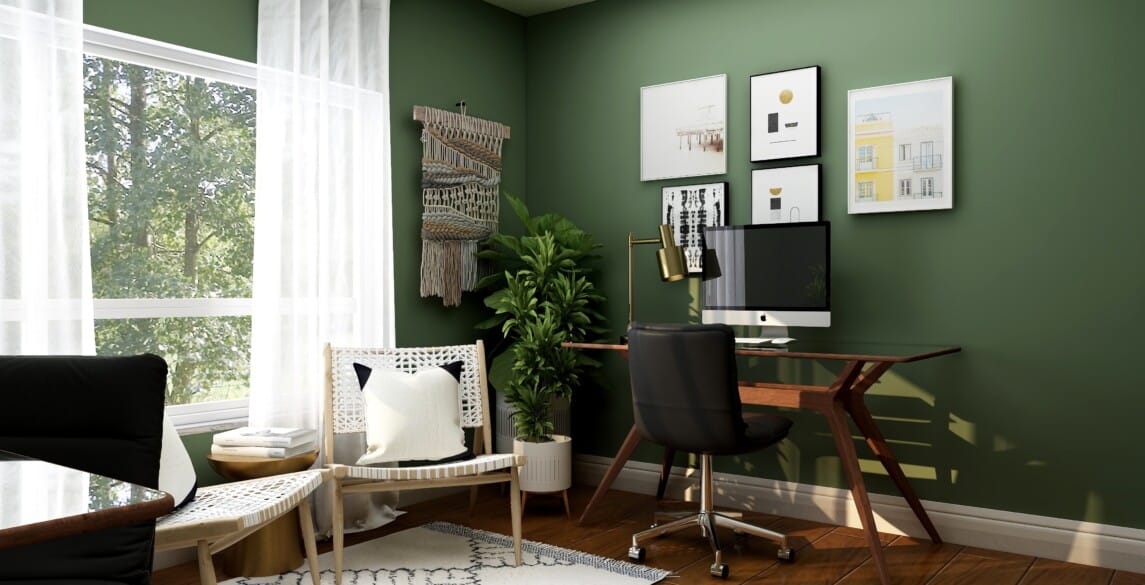 Over the past few years, quite a few individuals and families have re-evaluated their homes following major lifestyle and/or career changes. Some have opted to move, deciding they need more (or less space). However, many others have chosen to stay in their current home or apartment and update existing spaces to accommodate their evolving needs. For these people, every square foot is precious and should be utilized as efficiently as possible.
As part of this process, some rooms now serve multiple functions. Dining rooms also are offices. Guest rooms double as playrooms. But a good flex space should have some intention to it – where its different functions and overall design are thoughtfully considered. Here are some benefits and ways to go about designing a flex space for your home.
What are the Benefits of a Flex Space?
Your home feels more useful
Flex spaces can be an incredibly effective way to have a home feel more functional without moving or taking on a major renovation like an addition. For growing families, flex spaces help them feel like they're getting "more mileage" out of their current home before their kids get older and need more room. Generally, homes with less square footage carry a lower mortgage rate, so staying where you are and reimagining spaces for multiple uses also can create extra room in your budget for other needs and interests.
More sustainable way of living
Instead of investing in more square footage via a new home or renovation, flex spaces let you do more with less. One of the obvious sustainable benefits is less space to heat, cool, and furnish. It also allows you to reuse some of your furniture and other items in those spaces for multiple purposes, rather than buying things with a sole function.
How to Design and Set Up a Flex Space
Take a holistic look at your family's long-term needs
Especially after life events like having children or new work arrangements, what you need from your home changes. Have you found working from home to be a non-negotiable for your career moving forward? Do you find you need separate spaces to help you "leave" work for the day? Do you routinely host company? Do they stay for multiple days?  For those with kids, what kind of activities do they enjoy – and how much space do they need for them?
This isn't an exhaustive list of questions to consider, but these and others can help you reassess the different functions you need from your home, and just as important, how to prioritize them.
Look for functions and schedules that complement each other
Based on your needs and spaces, look for functions that can easily co-exist. For example, if you only host out-of-town company sporadically (but still enough to merit a dedicated guest room), could that space also serve as a home office? Similarly, if you have young kids that need a room for arts and crafts or active free play, would it make sense to do away with a designated guest room and either invest in a murphy bed, extendable daybed, or air mattress for when you do have overnight guests?
Another effective way to design a room is around differing schedules. For example, your partner needs a home gym for an early morning workout and you need a dedicated space for work from 8 a.m. to 5 p.m.; how could you design a room that can easily be changed over to suit both needs?
Storage, Storage, Storage
A good flex room shouldn't feel like it's trying to serve each intended function simultaneously. Much of these rooms' success comes from having adequate, accessible storage so items can be tucked away when they're not in use without the room seeming overly cluttered. As much as possible, you still want the room to feel like a clean, organized space – even when it's designed for multiple purposes.
At the heart of a good storage plan is creativity. How can you utilize wall and floor space to add storage options? A few well-placed hooks can give you places to hang items so they aren't draped over other furniture (or thrown into a corner). If you have a lot of little things that need storage, such as office or craft supplies, over-the-door shoe racks can be repurposed to offer upwards of 24 small storage pockets that can easily be hidden behind a closet door. If part of your flex space plans includes getting larger furniture out of the house for a period, you may want to look into long-term storage options.
Flexible furniture
Similar to storage, it's worth investing in furniture that can easily accommodate different needs. As much as possible, try to find furniture that either is light or has wheels so that things can be moved around to quickly free up space when needed. Murphy desks, just like beds, can be folded away when not in use should your flex space be used for a home office. If it's a large room, room dividers can help partition spaces for different purposes.
***
Just like moving, reimagining an existing home can be an exciting way to embrace a new life stage. If you have more needs than you have rooms, flex spaces are effective at making your home feel bigger and more functional than it has before.
Need help storing furniture to better accommodate a planned flex space? We have 1.5 million square feet of storage across our 10 facilities!
---