Furniture and Layout Considerations for Hospitality, Restaurant and Retail
While many industries have been able to shift entirely to a virtual and/or e-commerce model, others are still dependent on customers physically…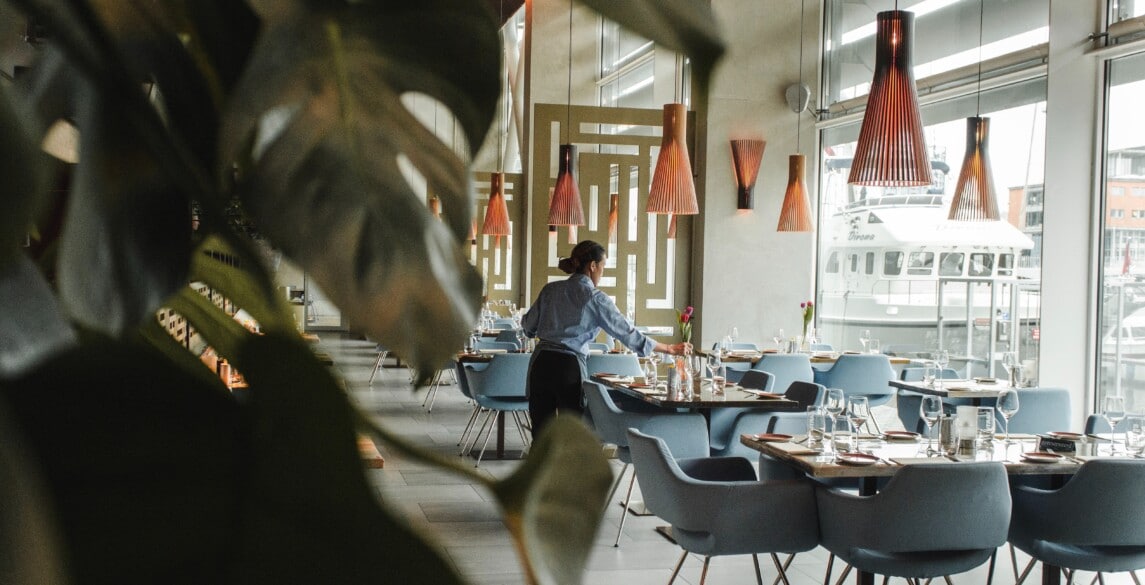 While many industries have been able to shift entirely to a virtual and/or e-commerce model, others are still dependent on customers physically visiting their locations – namely hotels, restaurants, and in some respects, retail. Even at this point in the pandemic, many are still exploring new ways to adapt their locations to be as safe as possible for customers and staff alike.
Even after the pandemic concludes, it's expected many people will want businesses to continue offering enhanced hygiene and social distancing safeguards, which will require them to explore new FF&E (furniture, fixtures and equipment) and layout considerations in this new reality.
Hospitality FF&E and Layout Considerations
Flexible, adaptable shared spaces
It'll become increasingly important that shared spaces, such as lobbies, be adaptable to quickly create defined areas as groups of different sizes come and go. Specifically, this means lighter furniture that can easily be moved as needed. Additionally, dividers, such as large bookcases, can help take traditionally large, open spaces and create niches in which guests can feel more safely distanced from other groups and individuals.
Break up conference facilities
In a similar vein, hotels with large conference spaces likely will need to reconfigure those to allow for smaller gatherings, accounting for flow so attendees aren't clustered together as they navigate hallways and stairs. It's also suspected many future events will be a mix of in-person and virtual attendees, making it necessary that these smaller meeting spaces be outfitted with the appropriate technologies (e.g., large monitors, secure and fast WIFI, etc.) to meet these event demands.
Restaurant FF&E and Layout Considerations
Re-evaluate spaces for additional dining options
Restaurants' profitability hinges on space utilization – how can they get the highest number of patrons (comfortably) seated in a given space. For most establishments, maintaining a six-foot buffer between groups isn't feasible, at least under their traditional layouts. While some restaurants have been able to set up tables outside, not all have that option. Others will need to reassess their space to see where they can add seating options as they remove tables elsewhere. This could mean installing dividers at bar tops to create separate dining options or converting previously unused spaces like waiting areas.
Retail FF&E and Layout Considerations
Utilize mobile displays and furniture
Retail arguably hasn't been as impacted as hospitality and restaurant establishments, as many have been able to pivot to e-commerce and in-store or curbside pickup. However, not having customers browse in-store to shop undoubtedly has hurt businesses everywhere. Finding ways to bring customers back in is top of mind for everyone in retail.
A key part of this will be designing layouts where customers feel that they can maintain their own personal space as they browse – while also making as much product accessible and visible as possible. Like hospitality spaces, retail businesses will want to consider displays and furniture that can easily be moved and changed as customer demand dictates.
When to Outsource FF&E Assistance
The common design theme for each of these industries is flexibility. New creative layout solutions may need to be identified with some regularity over the coming months, which is an added stressor on an already difficult situation. In many cases, it's worth outsourcing this work to an FF&E logistics provider, a specialist who can handle tasks such as furniture installation and reconfiguration, opening and closing assistance, and warehousing and delivery.
The right FF&E partner can help transform a space to be more adaptable as needs change. While it may seem as simple as "moving a few things around," space assessment, particularly with a focus on flexibility, is not a casual task that most staff can figure out by themselves. Leveraging a provider with the right expertise can help a business more seamlessly transition into their new normal and maintain operations without additional down times.
Businesses that rely on customers being on site face unique challenges in the months ahead, namely, creating spaces in which individuals feel safe. Fortunately, there are a number of solutions that can have a quick, positive impact when implemented correctly.
Need assistance with how to best utilize your hospitality, restaurant or retail business? We specialize in commercial and logistics FF&E services designed to help businesses stay productive as they grow or readjust.
---