Hilldrup Wins Fredericksburg's Best Moving Company and Best Place to Work
Hilldrup is thrilled and honored to share that we have been voted as Fredericksburg's Best Moving Company and Best Place to Work…
Hilldrup is thrilled and honored to share that we have been voted as Fredericksburg's Best Moving Company and Best Place to Work in The Free-Lance Star's Best of the 'Burg 2018 competition.
The annual competition, run by Fredericksburg.com, began with a nomination process where voters could nominate local businesses they feel are the best in the Fredericksburg region. With a multitude of categories, the nomination process was open to the public with a limit of one nomination per category, per day. Hilldrup was excited to move forward to the final round of voting, which followed the same process and rules as the nomination period, and recently announced the news to Stafford employees during a recent employee meeting.
"It means a great deal to receive this recognition in the communities we serve and in the areas that most of us reside in," said Charles W. McDaniel, President and CEO, during the announcement. "It's truly the people, and our Mission, Vision and Values, that makes us who we are. We always have to take part in that and have pride in it."
We would like to thank our entire team, across every department, for all that they do. Their unwavering commitment to our customers and to the Hilldrup organization is the reason that we've been awarded this great accolade. Congratulations to the Fredericksburg area's best moving company and best place to work, period!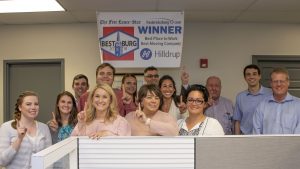 ---