The new Hilldrup.com
We've seen a lot of changes over the past years, particularly when it comes to the technology we use to serve our…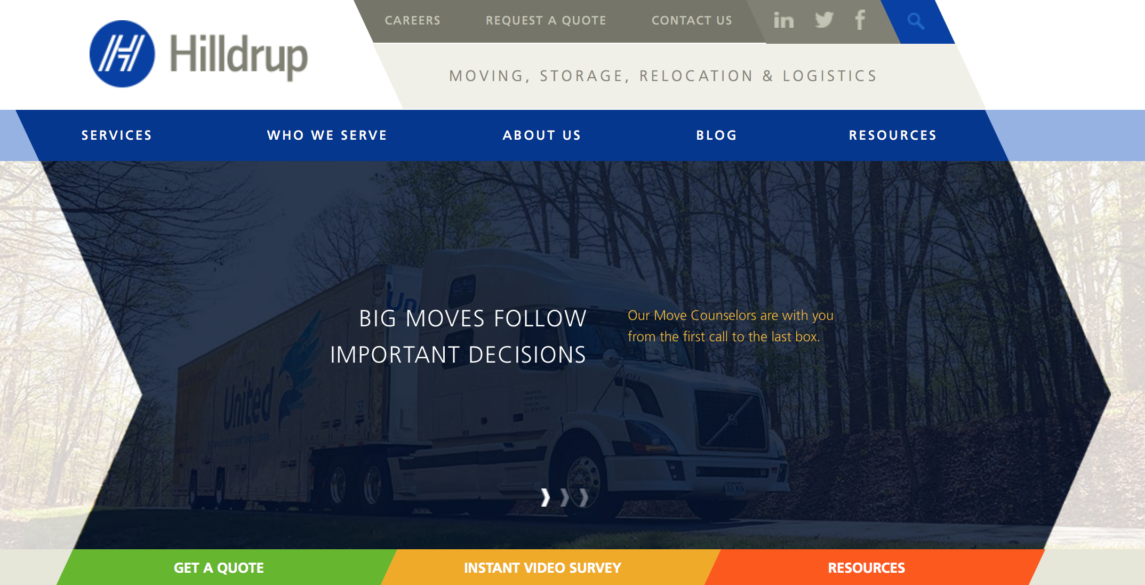 We've seen a lot of changes over the past years, particularly when it comes to the technology we use to serve our customers. iPads are a common aspect of any move estimate, and we can now do virtual in-home surveys. These are just a few of the examples of how we've adapted to best suit the changing needs of our customers.
With that, we're excited to announce the launch of our new website! Our new brand was designed to better reflect our forward-moving, customer-focused philosophy, and we needed a website that brought that to life. The new site was designed with our customers' biggest questions and needs in mind.
While there are a lot of new tools and features to check out, here are some of our favorites we think you'll enjoy!
Your biggest needs, front and center
If you're coming to Hilldrup.com, chances are you need help moving. We've made it easier to schedule an in-home estimate, request a virtual survey and find additional moving resources. Simply go to our homepage and click on the buttons for each of those options toward the bottom of your screen.
How can we help?
Sometimes people have a moving question, but aren't quite ready to pick up the phone and speak with a representative. To help with these smaller questions, we've also added an instant chat feature so we can better help you with your moving needs. The person you'll be chatting with is a real-life person who works in our headquarters – and not an automated bot with a limited number of responses. The chat window pops up automatically shortly after you visit the site.
And a whole lot more
Quite frankly we think everything on the new site is bigger and better, and we'd be here for a while listing out everything we love about it. Suffice to say, we hope you'll spend some time exploring the new Hilldrup.com to see all that it has to offer. If you have any questions or comments about the new site, please let us know!
---