Welcome to Charlottesville, Coach Mendenhall! – Moving UVa.'s newest head football coach (and staff) across the country
When it comes to the University of Virginia (UVa.), Hilldrup is a long-standing supporter – which makes sense. Our president Charles W.…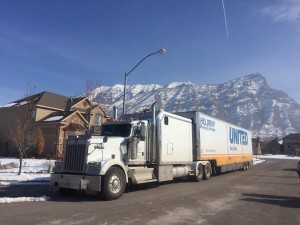 When it comes to the University of Virginia (UVa.), Hilldrup is a long-standing supporter – which makes sense. Our president Charles W. McDaniel was a starting linebacker and captain of the football team in the 1980s, who even set a school record with 130 tackles!
Each season Hilldrup helps move the UVa. football team's equipment for away games, and all throughout the year, we'll move any coach, staff or faculty member who needs to relocate to Charlottesville. That's why when the Cavaliers announced the hiring of their new football coach, Bronco Mendenhall, it was time to get to work.
Coach Mendenhall comes from Brigham Young University in Provo, Utah. He and virtually all of his staff and their families, about 50 people in total, needed to make the move across the country. With so many families and questions to answer, our team took four different trips out to Utah to meet the staff, get to know the families, and assess each household to plan for a seamless move.
For several of the families, this move marked the first time they would live outside of Utah. So in addition to making sure their belongings got to their new homes safely, we also helped alleviate any reservations they might have had and get them excited about Charlottesville. Fortunately, our team is extremely familiar with the Charlottesville area and has relocation tools like CityPointe to help identify the best schools for their children.
Another concern that we identified when meeting with Coach Mendenhall's staff wasn't so much about the move itself, but about using a professional moving company. Some of his staff's families had relocated before and had bad experiences with their previous moving company. Not all moving companies are created equal and we took this as an opportunity to change their perspectives of what it's like using a trusted mover.
We worked with our United partner agent Mesa Moving & Storage, who did the packing in Provo.  Over eight weeks, we transported the household goods and unpacked the belongings of the entire football staff into their new homes in Charlottesville!
Hilldrup understands how important it is for employees, especially high-profile ones, to have a stress-free and enjoyable move so they can get to work. We're excited to have helped Coach Mendenhall and his staff make the move to Charlottesville and for the future of UVa. football!
Wahoowa!
---