Cooking Up Community for RUW 2023 – 2024 Campaign Kickoff Week
As a long-time corporate supporter of RUW, we were excited to kick off our campaign week for 2023 - 2024 inspired by the theme of "Cooking Up Community."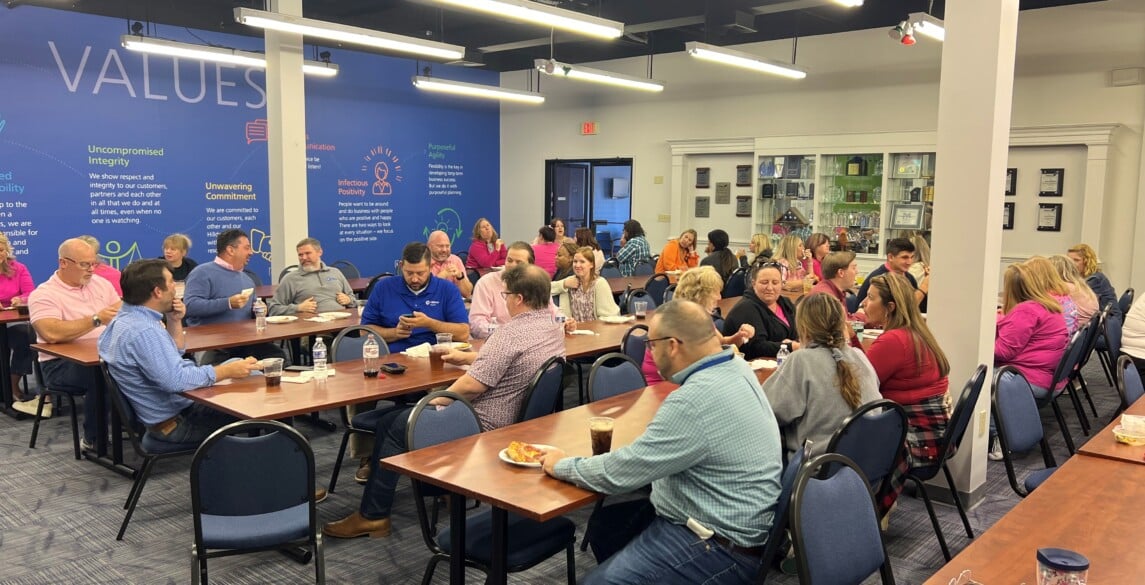 It's an annual event that Team Hilldrup looks forward to each year – both as a way to give back and get together: Campaign Kickoff Week for Rappahannock United Way! This year's workplace campaign activities were inspired by RUW's theme of Cooking Up Community. From October 9 – 13, our Stafford professionals participated in fundraising activities that were fun, challenging, team building and truly a recipe for success!
Hilldrup is proud to be one of the top 20 companies in the region who supports RUW's mission and efforts of improving lives, especially those who are considered ALICE, throughout the local community. Here are the ways that we creatively and proudly gave back to RUW through our 2023 – 2024 workplace campaign!
Monday, October 9th
To kick off our campaign, we began with the most important part of reaching our campaign goal: making it as easy as possible to give! ePledge cards were emailed to office employees with a personalized note from our President and CEO Charles W. McDaniel. In addition, hard copies of pledge cards were available in our Operations department. All employees who did a rollover pledge were entered into a raffle for a $50 gift card and all first-time pledgers were also entered into a $50 gift card raffle. Congratulations to Robert Riebe and Sharnneice Allen, respectively!
One of our most popular ways to give is through the purchase of a $25 All Access Pass, which gives the donor access to all of Hilldrup's events throughout the week's festivities. Thank you to all who participated and donated right away to give us a head start in reaching our goals!
Tuesday, October 10th
Day 2 of our campaign week activities involved our Silent Auction with 20 items up for grabs! Through our fundraising website, employees bid on the highly sought after items that were pictured, which included an Apple Watch 8 Series, Le Creuset kitchenware, Philips Premium Airfryer, Espresso Marker and more. Congratulations to our below winners!
Amazon e-gift card – Kolby Yothers
Apple AirPods Over-Ear Headphones – Charlie McDaniel
Apple Watch 8 Series – Harrison Howard
Fitbit Luxe Fitness and Wellness Tracker – Carol Neal
Hatch Restore 2 Alarm – Jessica Facciolo
KitchenAid Artisan Series 5-Quart Stand Mixer – Duane Dupie
Le Creuset Cast Iron Dutch Oven – Kim Gentry
Le Creuset Stoneware Set of 4 Heritage Mugs – Carol Neal
Massage Envy e-Gift Card – Carol Neal
Nespresso Vertuo Pop+ Deluxe Coffee and Espresso Maker – Lidia Lungoccia
Nike e-Gift Card – Debra Brosnan
NutriBullet Blender Combo – Tamika Mitchell
Oura Ring, Heritage – Onie Girton
SHW Memory Preset Electric Height Adjustable Desk – Rebecca Taylor
Sperax Walking Pad – Toni Mohrman
Sur La Table Kitchen Essentials 10 Piece Cookware set – Danielle Boyd
The Comfy Original – Hunter Watson
Le Creuset Enameled Cast Iron Signature – Carrie Chewning
Wednesday, October 11th
To celebrate the middle of the week, we began the workday with a waffle bar prepared by our senior management team beginning at Hilldrup's crew meeting at 7AM.  They continued to serve employees until 9AM. Later, an all-you-can-eat pizza lunch, including drinks and cookies, was provided with all donations directly supporting RUW. Congratulations to our lucky winner, Kayla Hoffman, who had a "golden ticket" under her slice of pizza which won her a $50 gift card! Finally, our teams prepared to find a buddy and met outside to prepare for our annual water balloon toss event. Before things got competitive, everyone who wore pink for Breast Cancer Awareness Month was invited to take a team photo at the front of the building. Afterward, we met up with our balloon toss partner, grabbed a water balloon and did our best to stay in the game until the very end!
Congratulations to the final two teams who were left standing: Team 1: David Brooks and Ashley Lamb who won, and Team 2: MacKenzie Pope and Charlie McDaniel, in second place!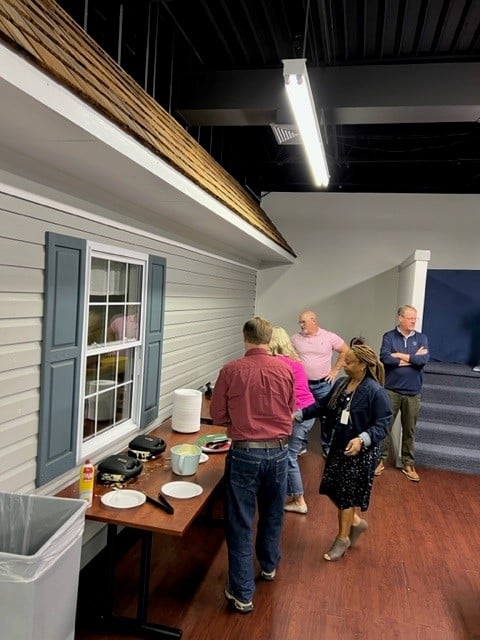 Hilldrup Senior Leaders prepare waffles in our Training Center to serve to employees.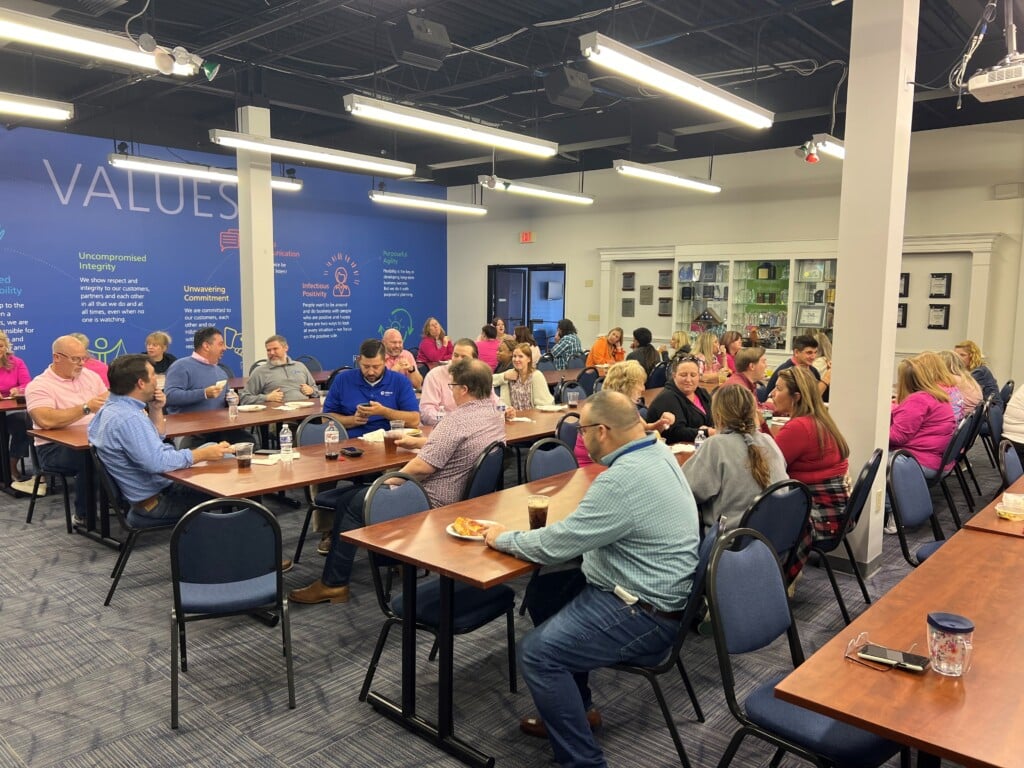 With our teams usually working remotely, it was a treat to get together and enjoy the pizza lunch with our teams and coworkers!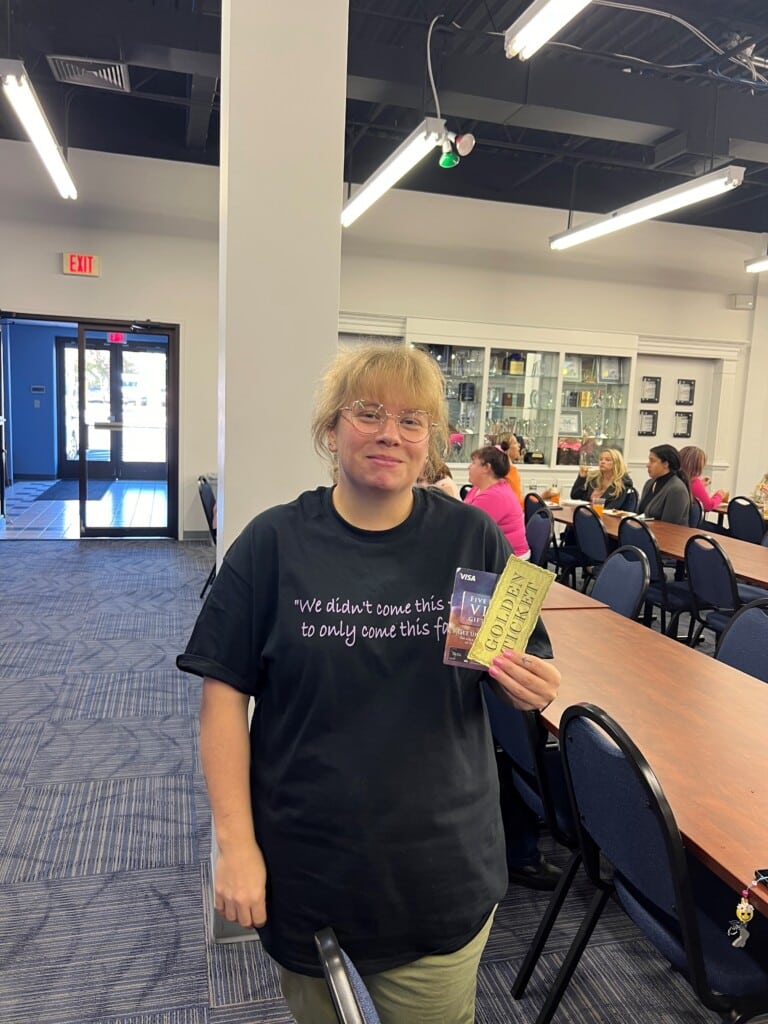 Congratulations to Kayla Hoffman of our Customer Service department who was Hilldrup's "Golden Ticket" winner and recipient of a $50 gift card!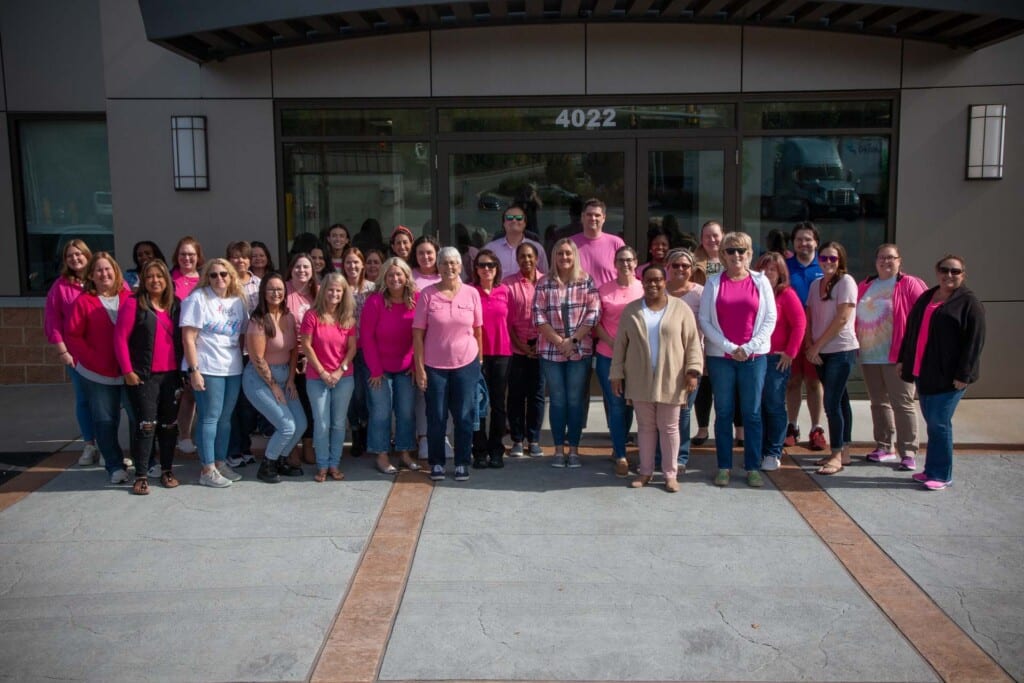 Team Hilldrup wears pink in support of October's Breast Cancer Awareness Month at our Stafford HQ.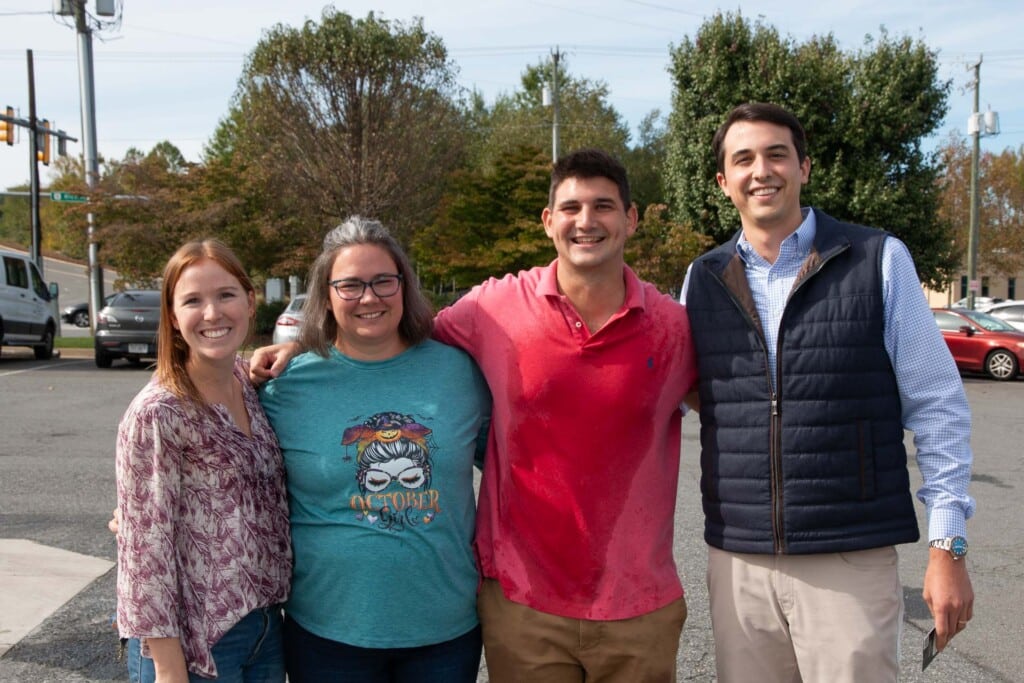 From left: MacKenzie Pope, Sr. Human Resources Business Partner; Ashley Lamb, Team Lead, International Customer Experience; David Brooks, Sr. International Bill & Revenue Analyst; and Charlie McDaniel, Sr. Director, Logistics Services made up our top two teams from Hilldrup's annual water balloon toss event.  
Thursday, October 12th
The following day, Hilldrup hosted a vaccine clinic for employes to take advantage of receiving any vaccines they're due for, to include flu, TDAP and Shingrix. After lunchtime, an ice cream sundae bar was held in our HR department with plenty of flavors and toppings to enjoy. On our "ice cream counter" was a jar of sprinkles that employees were encouraged to study carefully before submitting their best guess as to the number of sprinkles inside. Finally, employees were invited to our Training Room for a fun challenge that we called the "Spaghetti and Egg Challenge!" The goal of the challenge was to build a tower, using only string, tape, spaghetti pasta and marshmallows, in order to hold an egg for 60 seconds. The tallest tower that held the egg for the longest amount of time would be declared the winner! An extra twist? Participants only has 30 minutes to construct their tower!
Congratulations to the Spaghetti and Egg Challenge winning team of Matt Caler and George Roth! Matt Caler was also the closest guess for the ice cream sprinkle game with his guess of 25,000 – just 44 more sprinkles were actually in the jar! A prize of $50/person/challenge were presented to these winners.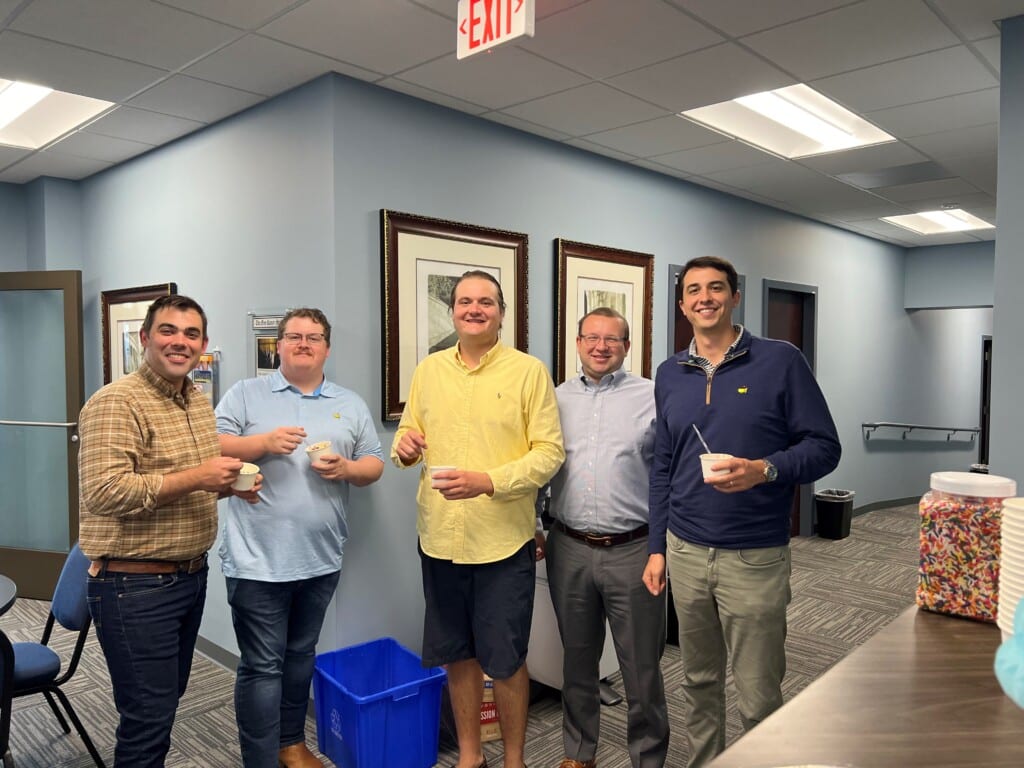 From left: Matt Caler, Sr. Director, Client Services – Workplace Solutions; Hunter Watson, Client Services Consultant; Bucky Burden, Sr. Manager, Client Services; Vitaly Willis, Workplace Solutions Account Manager and Charlie McDaniel, Sr. Director, Logistics Services gather in our HR department to enjoy Thursday's ice cream sundae event.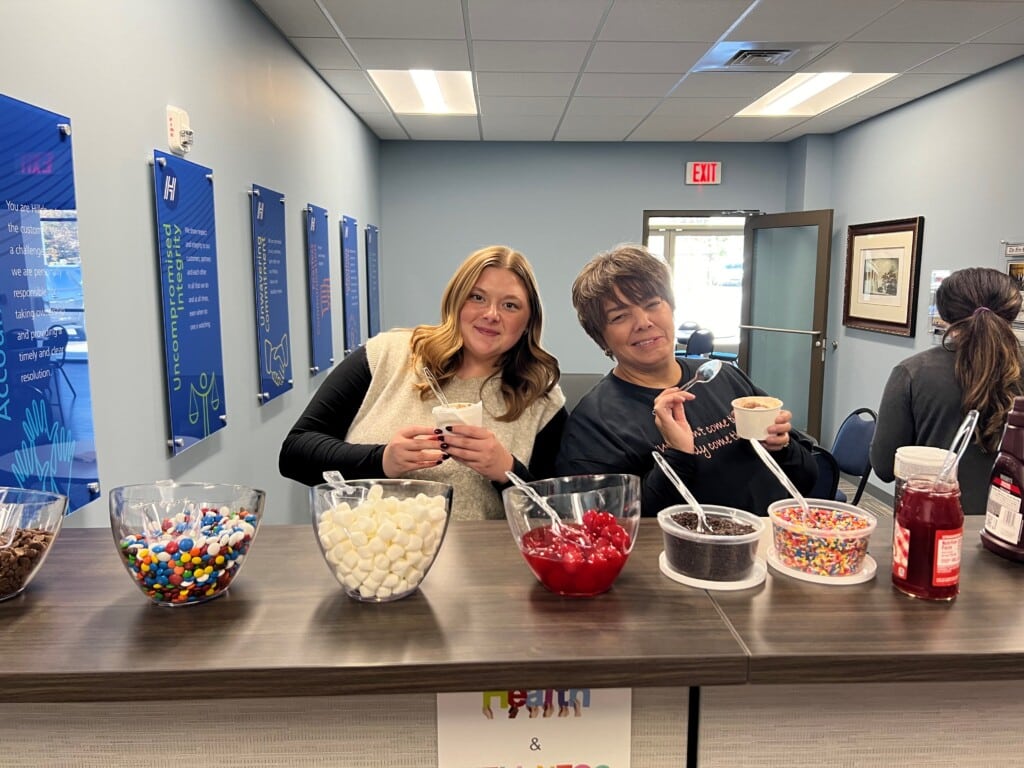 Sydney Romine, OA/DA Coordinator and Barb Schehl, Supervisor, Customer Experience take a well-deserved break during campaign kickoff week to enjoy a cold treat!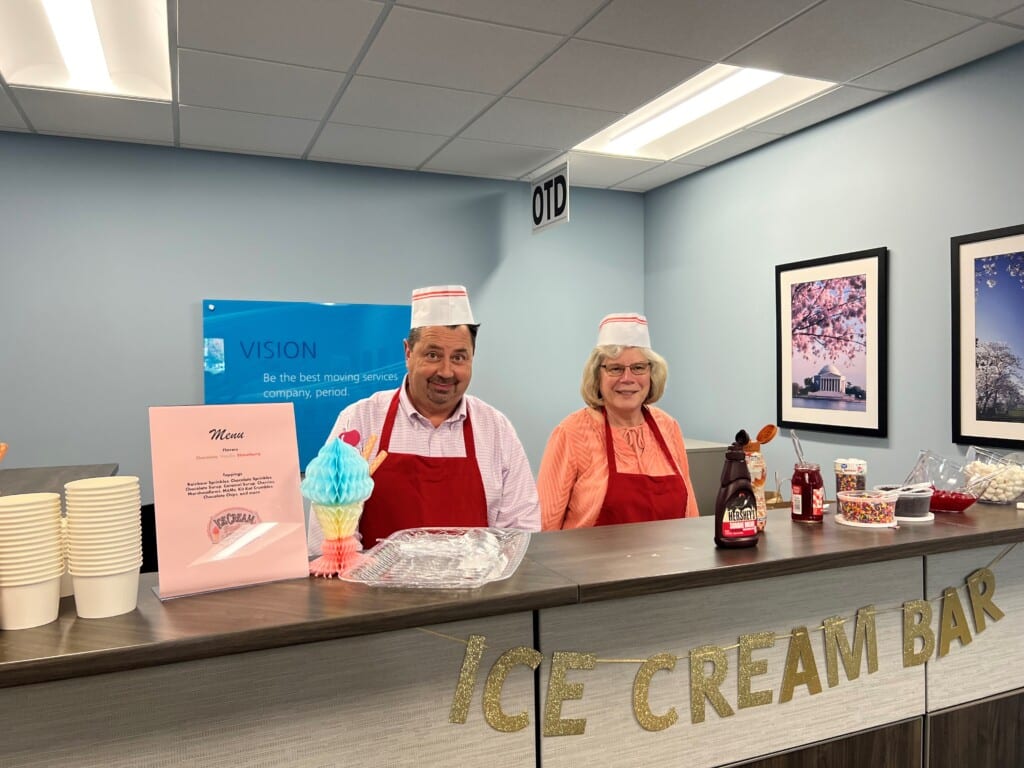 George Roth, Vice President, Residential Sales and Connie McGrath, Vice President, Finance were just two of our senior leaders who served up scoops of ice cream to our teams!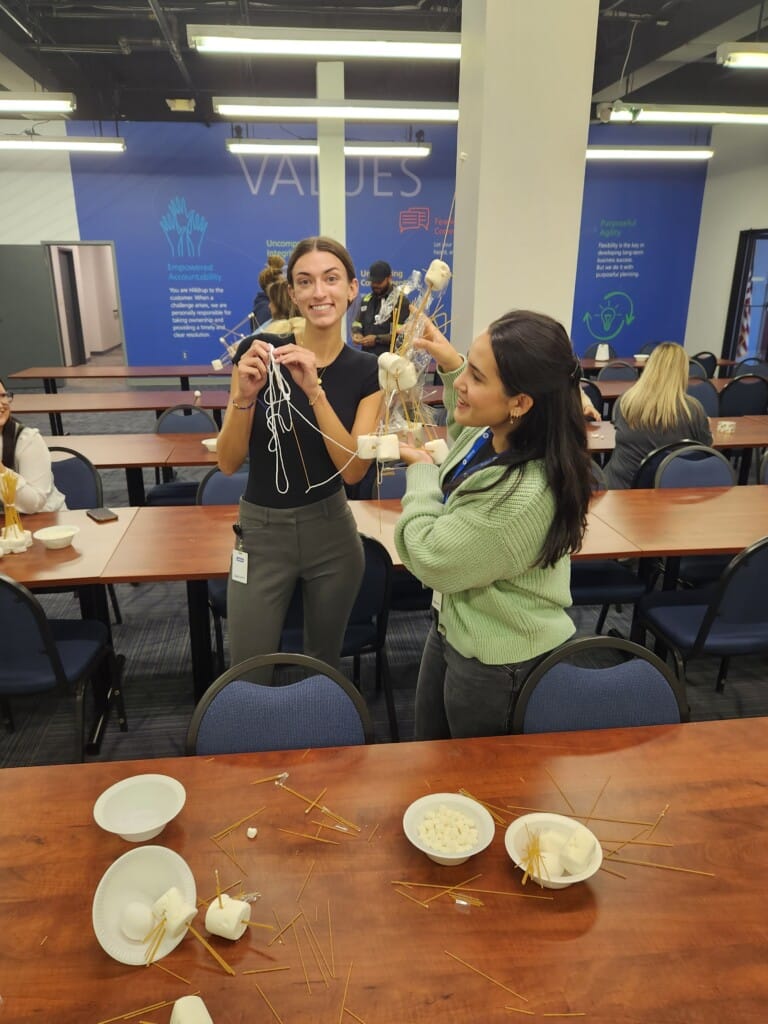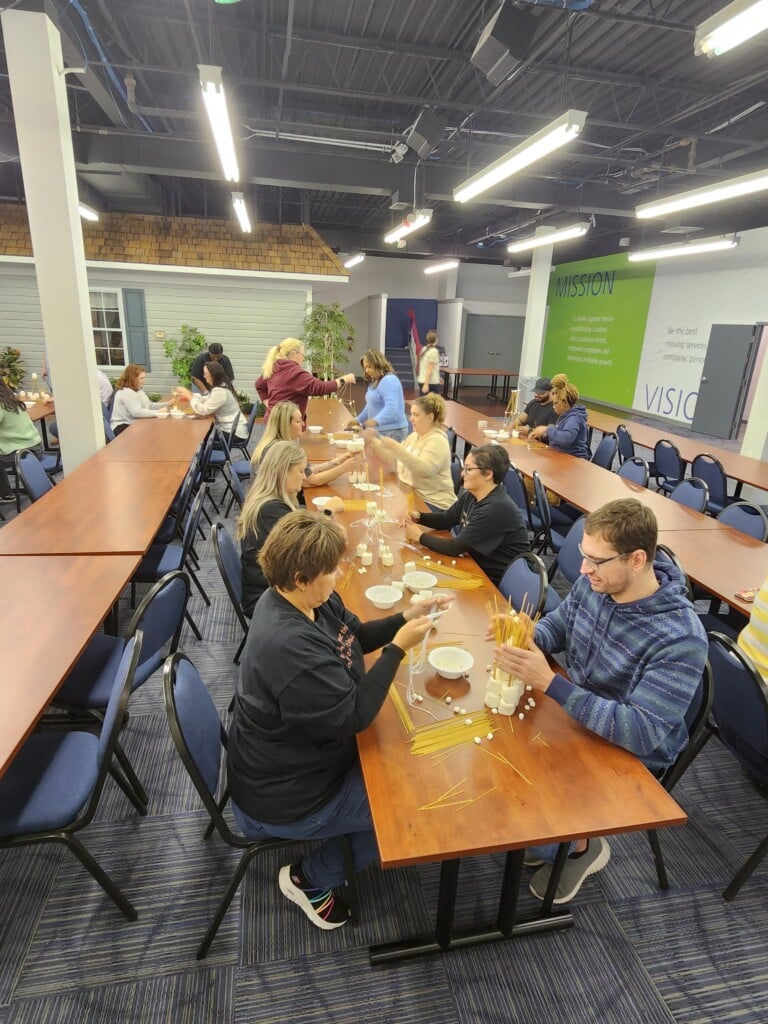 Team Hilldrup paired off and got to work on their tower structures as part of the Spaghetti and Egg Challenge in our Training Room.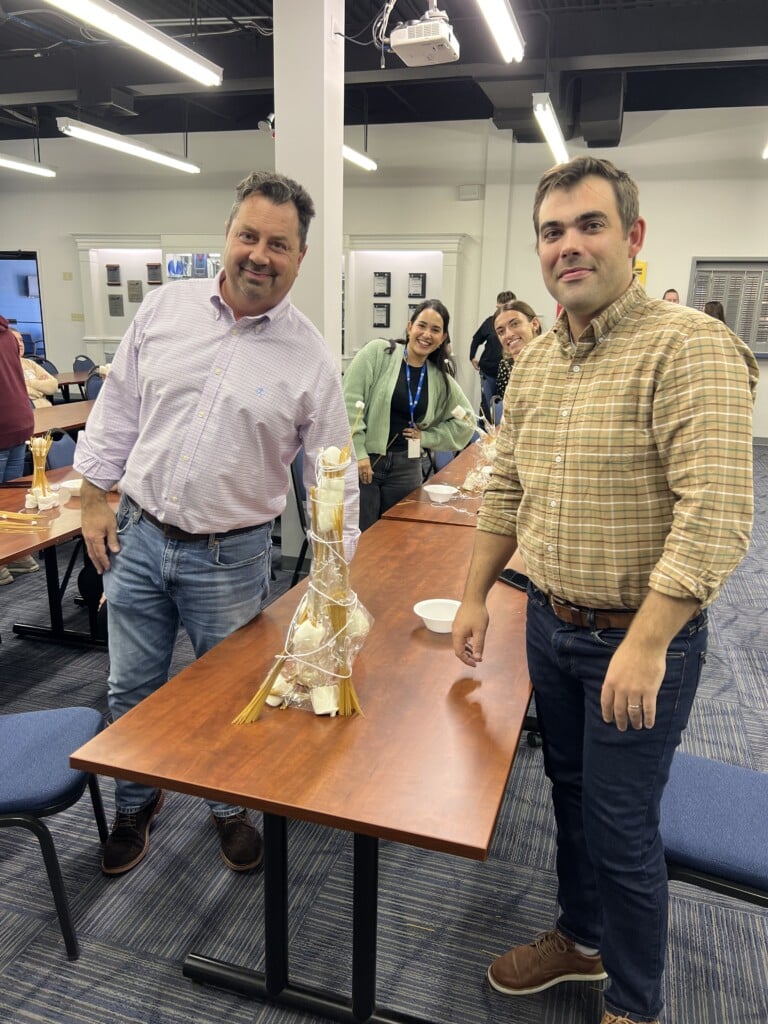 Congratulations to George Roth, Vice President, Residential Sales and Matt Caler, Sr. Director, Client Services – Workplace Solutions – our Spaghetti and Egg Challenge winning team!
Friday, October 13
On Friday, the winners of our basket raffle winners were announced! Throughout the week, employees were able to buy tickets and place their physical tickets in a jar for the basket – or baskets! – they're interested in winning. Congratulations to our winners below!
Downtown Date Night! – Teauge Meiers
Any Given Sunday – Nate Mueller
Grilling Extravaganza! – Kim Surratt
How About Them Apples – Katie Murray
Get your Game On – PS5 – Lidia Lungoccia
Charles Basket (Charles W. McDaniel's Favorite Things) – Matt Caler
Smores Firepit – Bridget Dern
Bartenders Dream Bar Cart – Shavreia McKvian
Wine and Design – Janis Jerrell
Golfer's Dream – Mike Tatum
Luke Bryan Concert – Carol Neal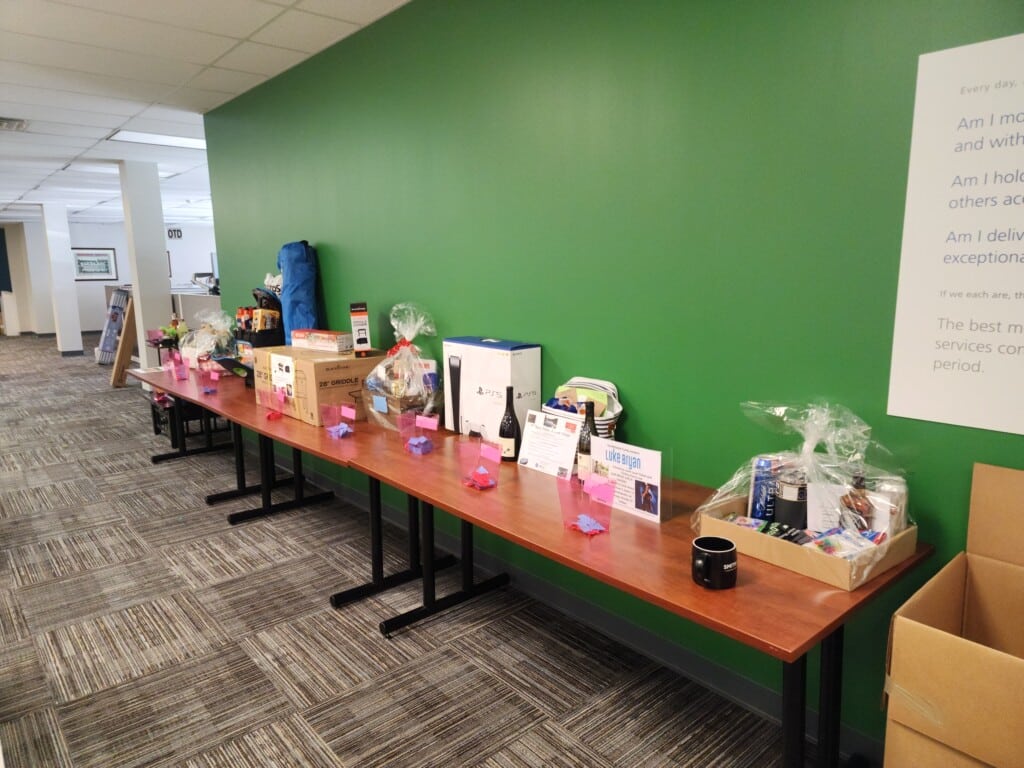 The raffle basket items were on display at our Corporate Headquarters for employees to view and add their respective raffle tickets towards all for a chance to win one of these great prizes!
In the spirit of this year's theme of Cooking Up Community, employees were encouraged to bring in cans of food during the week to provide to our local food bank. A gift card was presented to the floor that had the most donations to use for a fun event at a future date. Congratulations to the 1st floor – where our Customer Service, Marketing, Customer Care Center, and Human Resources departments sit!
Finally, for three weeks, our 50/50 raffle pot grew to a total of $2,258. Congratulations to our winner, Molly Vickery!
Thank you to all of our employees who made the success of these events possible. Big thank you to Onie Girton, Senior Vice President, Sales and Client Services and Tamika Mitchell, Vice President, HR for leading our workplace campaign this year. We all had so much fun and always enjoy an opportunity to support RUW and their life-changing work in our community!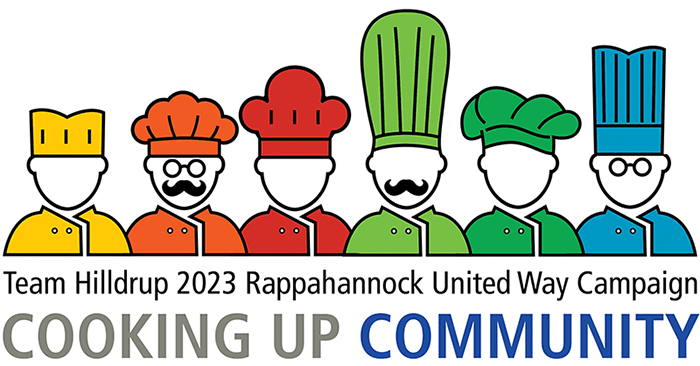 RUW's 20222 – 2023 theme Cooking Up Community inspired our workplace campaign to include collecting food donations during our campaign kickoff week.
---