Moving to the Triangle: Living in Raleigh vs. Durham, NC
Considering a move to the Raleigh-Durham area? See our guide to Raleigh vs Durham!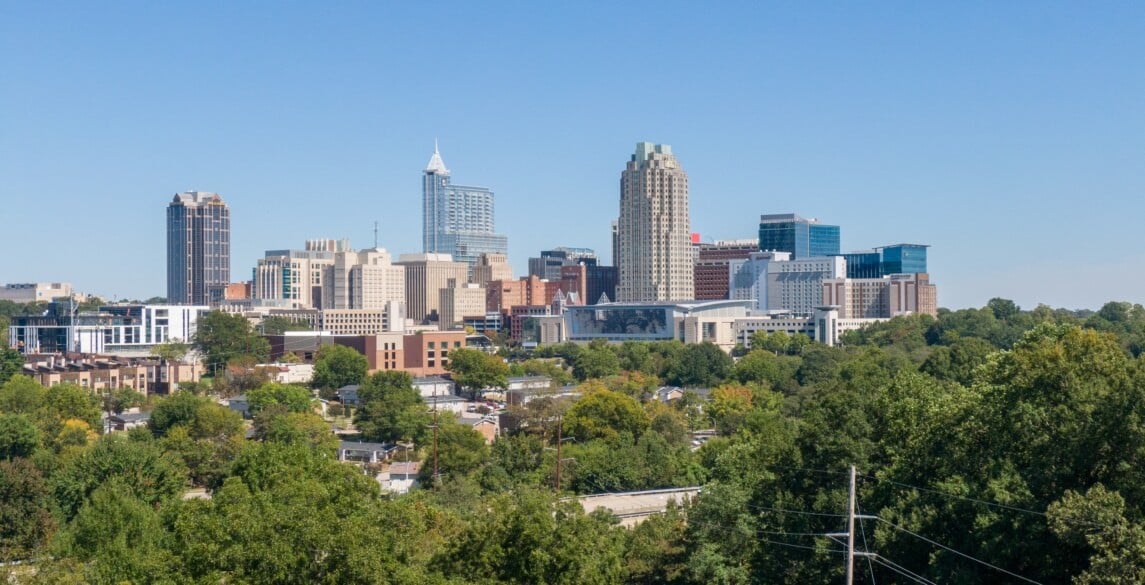 So, you want to move to the Research Triangle? A good place to start is learning what makes the cities within this area unique. Made up of the cities Raleigh and Durham and the college town Chapel Hill, the region has seen an explosion of growth in the last 30 years. Workers have flocked to the Triangle to work for the many technology and pharmaceutical companies headquartered there, and families have been attracted by new housing, quality schools and a comfortable climate.
When making a decision between Raleigh and Durham, how do you know what's right for you? We'll help break down the key differences in cost of living and highlight which neighborhoods have the most to offer. Payscale.com estimates that basic costs in Raleigh and Durham are 7% and 11% below the national average, respectively. In addition, the housing inventory in Raleigh shot up 186% between July 2021 and 2022 (higher than anywhere else in the country).  
It's obvious: the Research Triangle is booming and you're invited to the gold rush.
Cost of Living: Raleigh vs. Durham
Calculating the cost of living in a particular area is a common way to see if your current salary will stretch to fit your surroundings. While Raleigh and Durham both sit below the national average, the reasons why that's the case differs between the two.
We'll be looking at four distinct categories that make up each city's cost of living: housing, utilities, groceries and transportation. Additionally, we'll examine what the average salary is in both places.
Cost of Living in Raleigh
Raleigh is a much bigger city at 469,124 people compared to Durham's population of 285,527. However, Raleigh wins on the cost of groceries and transportation. The city comes in at 13% below the national average on food prices.
Median home prices in Raleigh are very reasonable, with most houses selling for about $364,131. Rent averages about $1,112 a month. Those living in Raleigh see an average energy and water bill of about $165.67 a month, 3% below the national utility average.
Raleigh has a convenient public bus system, GoRaleigh, and operates a free circulator bus downtown known as the R-Line. The Raleigh-Durham International Airport (RDU) is conveniently located halfway between the two cities with access from multiple interstates and highways. Raleigh Union Station is one of the busiest train stations in the South according to Amtrak. Overall, transportation costs in Raleigh are 4% below the national average.
According to data from ZipRecruiter, the average salary in Raleigh across all industries is $70,594 annually.
Cost of Living in Durham
Durham, or Bull City as it's affectionately called, is a very cost effective place to live, edging out Raleigh in low housing and utilities costs. A growing city, Durham has seen its population increase at a rate of 109% since 1990.
The housing market in Durham is a bit of a buyer's paradise, with homes going for about $311,543 on average. Renters can expect to pay $951.69 a month for a standard apartment in the city. All of this means that Durham's housing costs are a noticeable 22% below the national average.
Utility prices are also low, totaling about $159.70 a month. Grocery and food prices aren't quite as low as those in Raleigh, but they are still 7% below average nationally.
An extensive system of bike trails weave through the city and the American Tobacco Trail, which runs along an abandoned railroad bed, has its northern terminus in downtown. Durham also has an Amtrak train station and a municipal bus system similar to Raleigh's. GoTriangle is the bus system that serves all cities and counties in the Research Triangle, including Durham.
According to ZipRecruiter, the average salary in Durham across all industries is $63,146 annually.
Best Neighborhoods: Raleigh vs. Durham
Picking the right neighborhood is a big choice. There are so many factors to consider: aesthetics, space, location, schools, safety, home values and amenities. Both Raleigh and Durham have a wide range of neighborhoods for every budget, lifestyle and age group. When buying a new home, it's often good to look in multiple neighborhoods or at multiple houses. Having options can help make the process less stressful and allows you to compare and contrast. In addition to dense urban cores, Raleigh and Durham have large suburban and exurban areas surrounding them.
Best Neighborhoods in Raleigh
Here are some of the best neighborhoods in the Raleigh region.
Glenwood South
Located along Glenwood Avenue just a few blocks northwest of downtown, Glenwood is a perfect neighborhood for young millennials and Gen Z residents. The area has become a center for nightlife in Raleigh with an assortment of restaurants, bars and clubs within walking distance. The neighborhood also has a good mix of housing and apartments.
Five Points
Five Points is a cluster of historic neighborhoods (Hayes Barton, Bloomsburg, Georgetown, Vanguard Park and Roanoke Park) due north of downtown Raleigh. Many of the homes in this district were built around the turn of the century and are known for their mix of architectural styles and tree-lined lots. The neighborhood can be a great place to raise a family and has access to plenty of green space and shopping.
Brier Creek
Brier Creek is a suburban neighborhood situated in the far northwest corner of Raleigh. Conveniently located near the Raleigh-Durham International Airport and U.S. Route 70, living in Brier Creek means that you'll have an easy daily commute to and from work. The majority of the residences in this neighborhood were built after 1990 and surround Brier Creek Country Club, which is home to one of the best golf courses in North Carolina. Brier Creek is an excellent choice for families with its highly rated schools.
Oakwood
In recent years, the Oakwood neighborhood has had a bit of a renaissance. Developed in the 1800s, the neighborhood is filled with lovely Victorian-era homes and has an active historic preservation society. As Oakwood has gentrified, it has attracted people of all ages and backgrounds. Adjacent to Oakwood Cemetery and Saint Augustine's University, the neighborhood is quiet and peaceful, all while offering great views of downtown.
Stonehenge
Stonehenge has become an enclave for retirees in Raleigh. Located in North Raleigh, the neighborhood is bound by Lake Lynn to the west and Creedmoor Road to the east. Some of Raleigh's best retirement communities are located here, among them Springmoor, The Cypress of Raleigh and Abbotswood at Stonehenge. Because they are farther from downtown, lots in Stonehenge tend to be larger and more spacious than those in urban neighborhoods.
Best Neighborhoods in Durham
Here are some of the best neighborhoods Durham has to offer.
Downtown Durham
Downtown Durham is the beating heart of the city, both geographically and culturally. Popular with younger generations, the area is steps away from some of the best restaurants, music venues and bars in Durham. It's also not far from the Durham Bulls Athletic Park where the Triple-A minor league baseball team of the same name plays. Whether it's grabbing a burger at a local brewery or exploring some of the nearby historic landmarks, Downtown Durham has it all.
Brightleaf
Brightleaf (aka Brightleaf at the Park) is a master-planned community on the outskirts of southeast Durham. Not to be confused with Brightleaf Park near Downtown Durham, the community is close to the Raleigh city limits and plenty of grocery, restaurant and entertainment options. Perfect for families of all sizes, Brightleaf is rapidly adding new houses to accommodate growth.
Grandale
Another sought after suburban neighborhood, Grandale is south of Downtown Durham along the Highway 55 corridor. For those who work at an office in Research Triangle Park, Grandale is just 10 minutes away. On top of that, the neighborhood is close to excellent shopping areas like The Streets at Southpoint. Grandale offers the easy-going lifestyle of the suburbs while providing access to everything in urban Durham.
Hope Valley Farms
For those looking for a more rural atmosphere, Hope Valley Farms is a wonderful community. The collection of neighborhoods is southwest of Durham but not too far from the city. If you're a college basketball fan, you could hardly choose a better place to live; Hope Valley Farms is roughly 15 minutes from Duke University's campus and 25 minutes from the University of North Carolina at Chapel Hill. With access to some of the most highly touted schools in the region, the neighborhood is ideal for families with younger children.
Trinity Park
Trinity Park is a beautiful historic neighborhood with walkable streets and spacious homes. Sandwiched between Duke University's East Campus, Walltown, Duke Park and Durham's Warehouse District, the neighborhood is surrounded by activities and amenities. A few blocks away is the Durham School of the Arts, which has been consistently ranked as one of the best high schools in the country. Trinity Park caters to many demographics, from young professionals to large families to those looking to own a piece of history.
Hilldrup Moves Raleigh-Durham
Whether you choose Raleigh or Durham, we hope this helps you make an informed and confident decision. We also hope that you'll consider Hilldrup for your next move. Hilldrup provides residential moving services, storage, packing and crating services. Additionally, take a look at our residential quote page to get a fast and free virtual estimate. For more information on our Raleigh-Durham movers and the areas they serve, click here. Plus, check out our handy Raleigh city guide.
---