Accounting & Payroll's Susan Cyrus Retires from Hilldrup
A dedicated employee of our organization for nearly two decades, thank you for your service to our teams and beyond, Susan!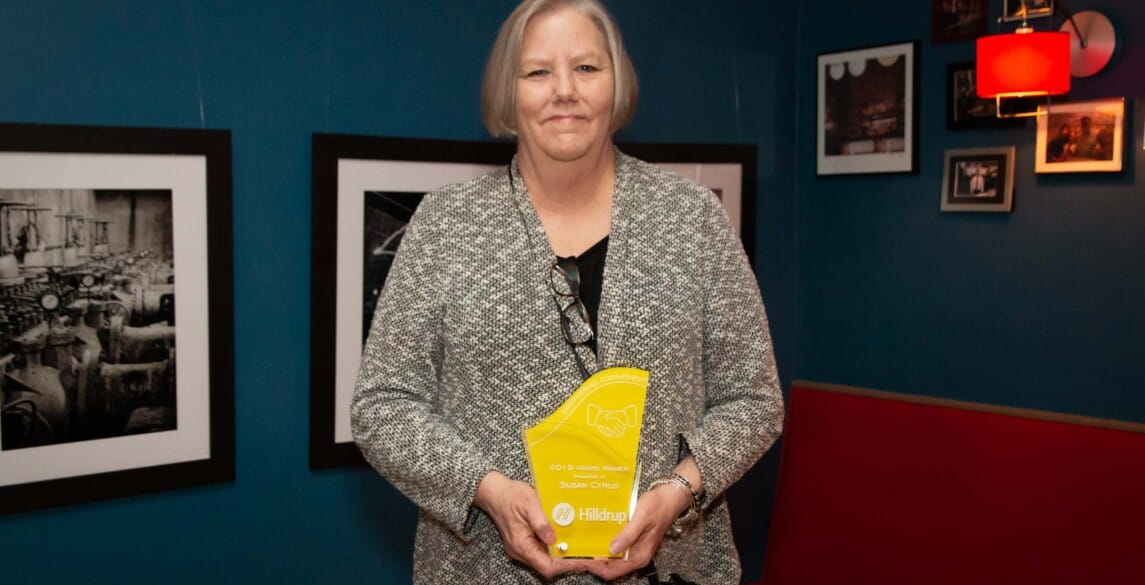 A dedicated and critical part of Hilldrup's Accounting and Payroll team at our Corporate Headquarters for 17 years, Susan Cyrus retired May 1, 2023. Susan served as an Accounting Clerk and before her promotion to Payroll Coordinator in 2009. Susan's dedication and attention to detail has been an essential part of Hilldrup's accuracy and timeliness when it comes to accounting and payroll for both external partners and internal employees alike.
In honor of her commitment to her role and essential duties, Susan was celebrated as part of Hilldrup's 2019 Best of the Best Awards. Susan was specifically honored as a Value of the Year Winner for Unwavering Commitment.
Before Susan retired, we wanted to catch up with her to ask a few questions about her career and plans for retirement.
Hilldrup: What does a typical day in your role with Payroll / Accounting include?
Susan Cyrus: In Accounting/Payroll, there is no such thing as a typical day! I got to talk to, and help, many of Hilldrup's wonderful employees. There are many deadlines to be met!
H: What has been your favorite thing about working at Hilldrup?
SC: My favorite thing about working for Hilldrup has definitely been the people and the family atmosphere! I loved the team I was part of [including working with], Debbie Brosnan, Connie McGrath, Chris Cannon, Angela Frazier, Christy Garcia, Nanette White, Quanesha Samuel and Kaila Sims. But, I always felt part of every team and branch!
H: What advice would you give to someone just joining Hilldrup?
SC: Relax, do the best you can and ask many questions!!  
H: What are some of the top things that you plan to enjoy in retirement? 
SC: I plan on enjoying my grandchildren!
On behalf of your team and the entire Hilldrup organization, thank you Susan! Your service to our employees, partners, clients and more throughout your career has allowed Hilldrup to remain a trusted organization to be in business with as well as an employer of choice in the markets we serve year after year.
We wish you health, happiness and continued blessings in your next chapter! Congratulations!
---