Case Study: Moving Universities During COVID-19
University students across the country didn't complete their spring 2020 semester the way anyone could have envisioned it. Rather than taking final…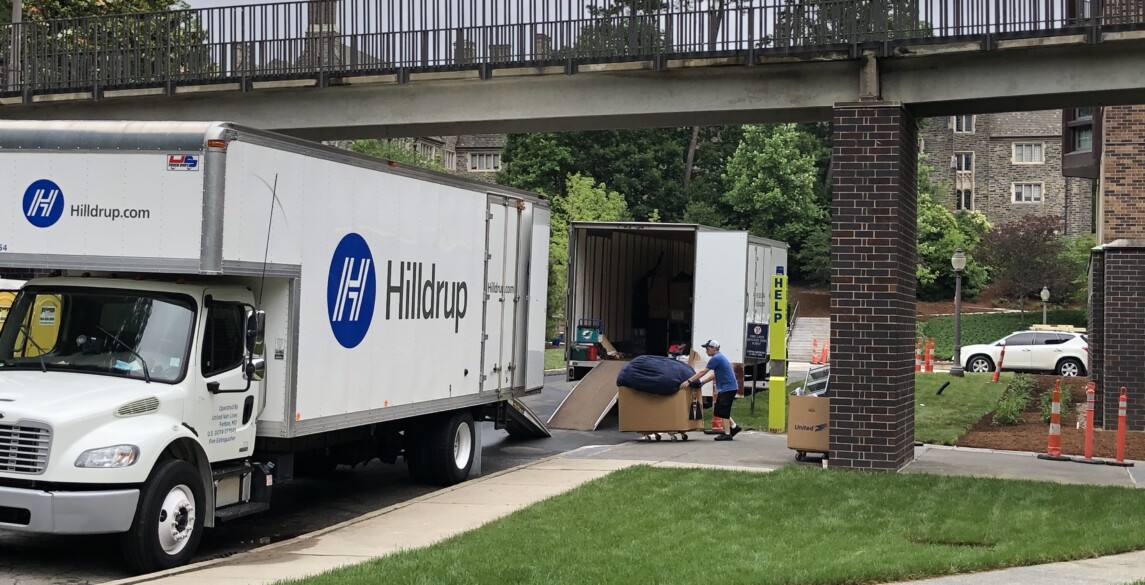 University students across the country didn't complete their spring 2020 semester the way anyone could have envisioned it. Rather than taking final exams in classrooms, preparing for graduation commencement ceremonies, and of course, packing up their "home away from home" – COVID-19 quickly put a wrench in the plans of students, and university parents and administrators alike.
With so much uncertainty, one of the questions that Hilldrup continually posed was, what can we do to help? And in the minds of academic faculty throughout the U.S. there was the question of, how do we get students, and their personal belongings, moved out of campus as safely, and quickly, as possible?
Thankfully, Hilldrup had a solution with the assets and professionals to make it happen. With ten branches located throughout major metropolitan markets across the southeastern and mid-Atlantic United States, our professionals were able to step in quickly to help.
Hilldrup's University Move-Out Solutions
Since 1903, Hilldrup has been proud to serve the moving, storage and logistics needs of colleges and universities. From relocating university athletic directors, including Carla Williams of the University of Virginia (UVA), to university presidents like the University of Mary Washington's (UMW) Dr. Troy Paino, moving those who keep universities running and thriving is what Hilldrup consistently does. This time, in the wake of COVID-19, our moving services solutions expanded to university students and meeting the unique challenges of safely packing and storing their items without them being on campus.
In fact, our team needed to accommodate any potential "unknowns" as best as possible. As such, we needed to think through the following scenarios:
Would students move back to campus in the fall? Are students' permanent residences in the United States or abroad? Would students have the option to retrieve their items or is access to their dorms currently not available per their university?
To accommodate, Hilldrup's moving, storage and logistics solutions specifically consisted of:
Mobilizing our teams to execute the best possible move programs suited to the specific needs of the university and its students
Delivering boxes for students to use to self-pack their dorm, student apartment, etc.
Providing on-site labor from Hilldrup to assist students with move out

Lifting heavy items
Providing wrapping and packing services
Organizing and labeling items to be packed

Offering storage solutions for students until fall semester by utilizing Hilldrup's secure storage warehouse facilities
Tracking shipments through Hilldrup's electronic-inventory systems so as to immediately track and organize all items within Hilldrup's storage facilities in real-time
Utilizing specialized warehousing solutions to allow for easy access to students who would be retrieving their items from Hilldrup's warehouse facilities
Developing creative, customized solutions for students based on when and where they wanted their items returned

Self-pick-up options at our facilities
Shipping items to students' permanent address
Short-term or long-term storage based on students' needs for upcoming semester(s)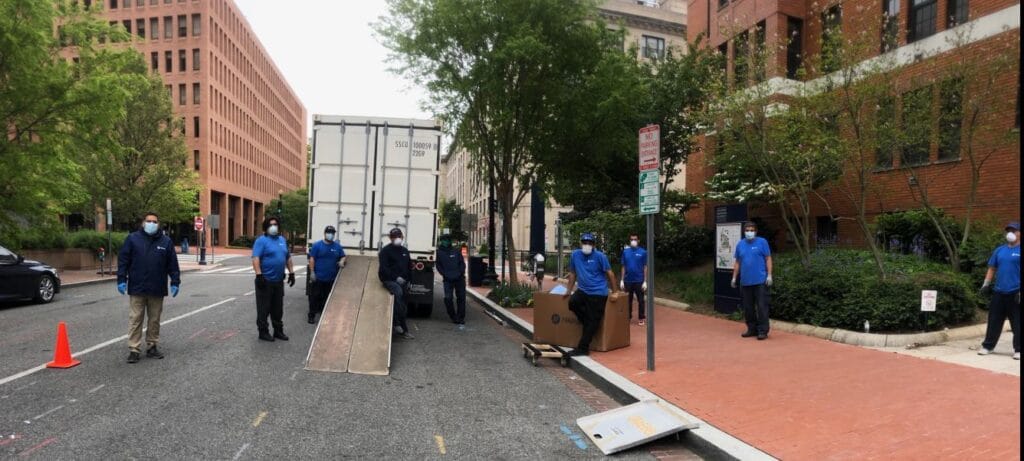 Hilldrup's service team at George Washington University wore Personal Protective Equipment (PPE) and ensured that the health and well-being of all students, faculty and colleagues were of the highest priority during move-out.
Who We Assisted
Tailored to each specific university's needs and desires for their students, Hilldrup was pleased to provide a range of moving and storage solutions for the following universities and colleges throughout the southeastern United States:
Clemson University – Clemson, SC
Coppin State University – Baltimore, MD
Duke University – Durham, NC
George Washington University – Washington, D.C.
Georgetown University – Washington, D.C.
Marymount University – Arlington, VA
North Carolina State – Raleigh, NC
Shenandoah University – Winchester, VA
University of Virginia – Charlottesville, VA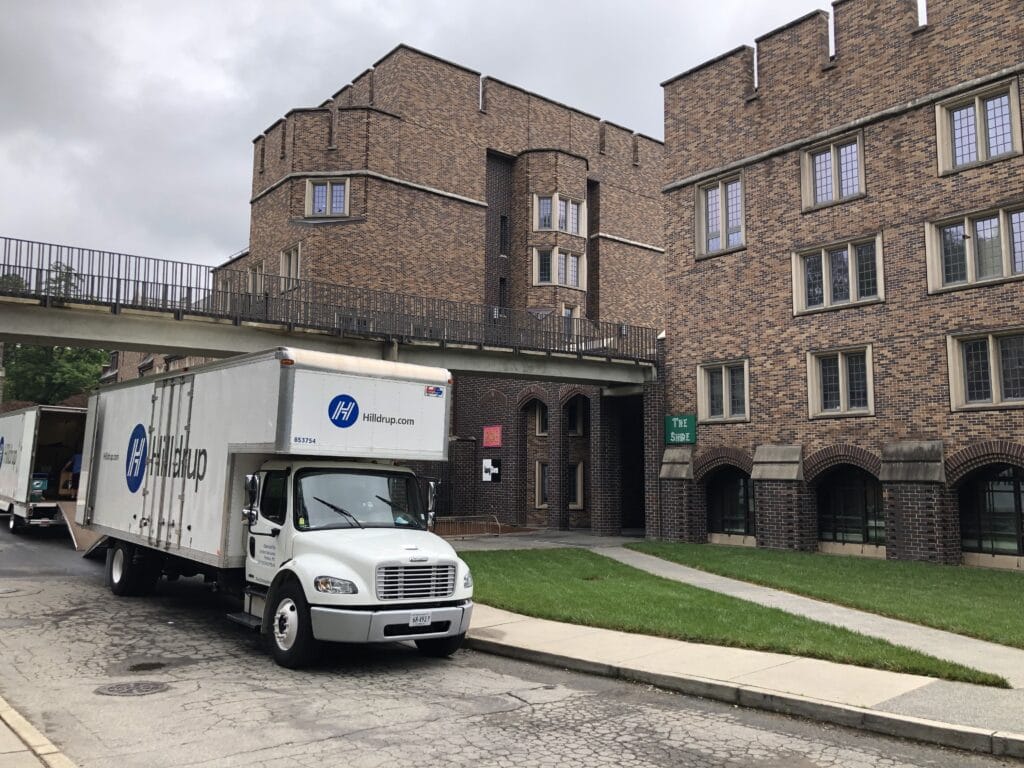 Hilldrup Raleigh-Durham was on-site at Duke University where our crews and project leaders helped students ensure that they had the assets and professionals to safely leave campus amongst COVID-19. Students were given the options of having their personal belongings stored until fall semester or mailed to their residence outside of campus.
Moving During COVID-19
Our typical checklist of items to successfully complete a move – from durable, high-quality packing materials to the right sized fleet for the job – quickly expanded. Ensuring that each of our Van Operators and service team members had the disinfecting materials and Personal Protective Equipment (PPE) needed for each move was critical.
The health and safety of our customers and our front-line workers is of the utmost importance to us. It's why the following were measures that were quickly put into place in March 2020 across our organization for every move project. All Van Operators and service team members will:
Undergo daily temperature readings.
Be equipped with masks to wear throughout the duration of the move.
Be provided gloves and will wear them upon request of the customer.
Utilize the sanitation kit provided to them, which is stocked with items like disinfectant wipes, hand sanitizer and paper towels, to clean high-touch areas as well as for their trucks.
Wash their hands regularly to prevent the spread of germs and will inquire which designated restroom they should use when needed during the workday.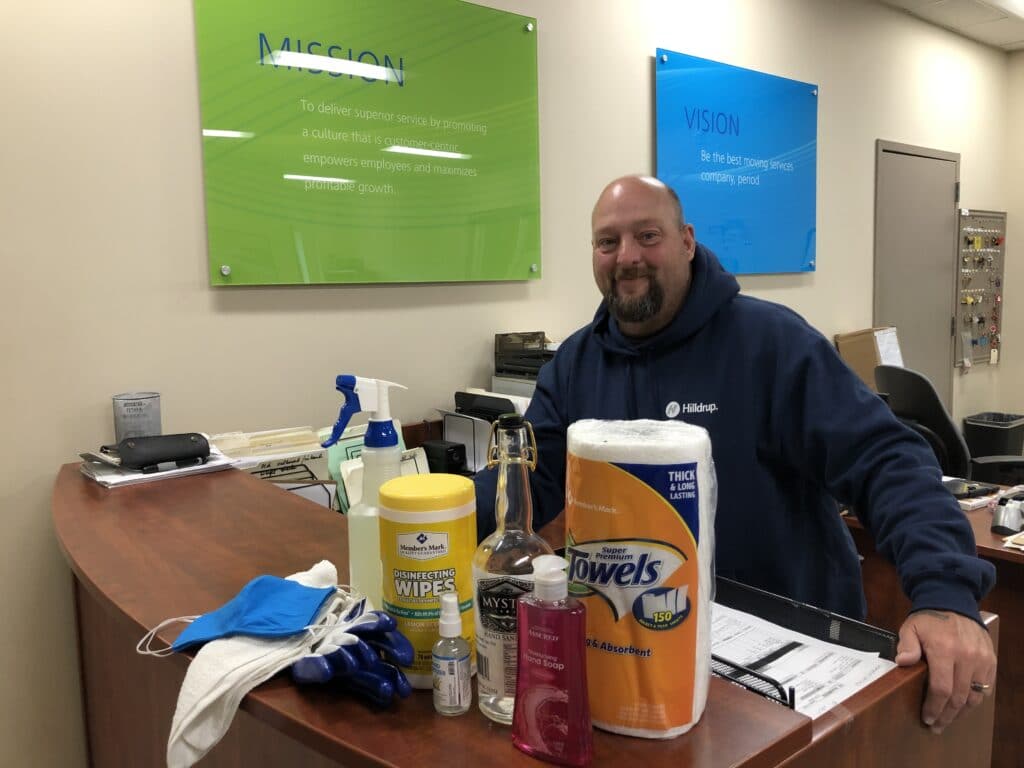 Our operations teams confirmed that all Van Operators and service team members were equipped with the cleaning supplies and disinfectants needed to make sure that all surfaces were routinely cleaned.
We were honored to be a helping hand to so many campuses and students across the Southeast and appreciate their trust in our team to deliver safe, timely and exceptional results!
Despite the unknowns of what is to come as universities throughout the country prepare for the fall 2020 semester, Hilldrup is prepared to deliver the moving and storage needs of universities – whatever they may be!
To learn more about Hilldrup's Commercial Services, please visit our website. Read more about Hilldrup's Complete Higher Education Move Guide.
---