Greenville, South Carolina Movers
Moving Soon? Let Us Help.
750 Berry Shoals Road
Duncan, SC 29334
Hours:
Mon – Fri: – 8AM – 5PM
Sat – Sun: – Closed
The reputable professionals of Hilldrup Greenville are ready to make your next move the best move experience you're ever had! Since 1993, our team in Greenville has proudly served the moving and storage needs of the Greenville-Spartanburg community and its surrounding areas. In fact, Hilldrup Greenville was honored as the a Top Finalist for Best Moving Company and Best Employer by the Spartanburg Herald-Journal in 2022! Whether you're only moving a few household items or uprooting an entire business, Hilldrup can make the transition seamless.
Give Hilldrup Greenville a call today or simply complete our Request a Virtual Quote or In-Home Estimate form to get started. We look forward to assisting you!
Areas Served
Abbeville
Anderson
Cherokee
Chester
Columbia, SC area
Duncan
Easley
Edgefield
Greenville
Greenwood
Laurens
Oconee
Pickens
Simpsonville
Spartanburg
Union
Western North Carolina
Professional Moving Services in Greenville, SC
Our Greenville branch has been providing award-winning moving and storage services for almost 30 years. We offer a variety of tools and services to help make your upcoming move a stress-free and exciting experience!  Our Greenville branch is proud to represent both the United Van Lines and Mayflower Transit brands as we service our customers.
Local Moving Services
Hilldrup is a Greenville moving company you can trust. For almost 30 years we've been helping individuals and families move to and from the local area and beyond. Let our Greenville movers handle the heavy lifting to help get you into your new home – whether it's a condo, apartment, loft or a single-family house – quickly and easily.
Commercial and Office Moves
Your company's productivity and revenue are top priorities – but what if moving or redesigning your business space is on the horizon? Your Greenville movers have the solutions! Our team will work with you to determine the specific needs, timeline and budget for your business. No matter the size of your organization nor the scope of work required, Hilldrup has all of your commercial and office moving needs covered!
Logistics Services 
Choosing Hilldrup – Greenville for your next project's logistics needs ensures that you receive world-class service from an asset-based company like Hilldrup. From the first call to the last item that is delivered, our team and menu of logistics services are here to serve you. Whether you work in hospitality, retail, restaurants or anything in between, contact us today to see how we can assist!
Corporate Moves
Your employees will thank you for calling our Hilldrup Greenville movers once they've realized how easy a corporate move can be with us! Hilldrup's corporate relocation services allow us to work with companies of all sizes and industries to develop the relocation policies your team members need most. Get your employees – and organization – started off on the right foot in their new location by contacting our Greenville, SC movers.
Employee Relocation
So your employee has their boxes packed and is ready to be moved by our Greenville movers – but what about everything else? A smooth relocation experience requires more than just the safe and timely delivery of their belongings. It's why Hilldrup Greenville offers a suite of services for employee relocations!  Contact us to learn more about these service offerings.
International Moves
For wherever your career or life is taking you next around the world, the movers of Greenville, SC can help you get there. Whether it's navigating the compliance, customs or tax laws, we know there can be a learning curve. Our professionals will walk you through each step and make your international move with Hilldrup seamless.
Storage Services
Can't take everything with you? Whether you're moving to Greenville, SC or departing the city, we can help. Our Greenville team offers 77,500 square feet of climate-controlled storage space that includes automotive storage as well. Utilize our storage capabilities for as long or as little as you need – we treat your items as if they were our own.
Government & Military Relocation
It's our honor to assist the moving needs of the men and women who defend our nation. Wherever the government or military may send them, we're here to make the process simple! From move preparation to delivery, we'll ensure that each item arrives to the service member's new home safely and on time. This way, they can focus on what really matters – their family and next assignment.
A Greenville Moving Company that Specializes in Stress-Free Moves
Our team of movers in Greenville, SC has the moving expertise, training, facilities, and equipment to make your upcoming move nothing but exciting and enjoyable.
Starting with your free in-home or virtual estimate, our team works with you to develop a move plan that is tailored to your specific needs – from DIY to full-service packing and moving crews, to short- or long-term storage solutions. You're also paired with a dedicated Move Counselor who will walk you through each step of your move to Greenville!
To ensure that you always receive top quality moving services, we have developed one of the most sophisticated and comprehensive training programs in the industry. This way you know our team of professional movers are prepared to help you with all of your moving needs. In addition to local moving services, our Greenville facility has 77,500 square feet of climate controlled storage space that includes automotive storage.
Want some extra money from your move? When you choose Hilldrup to help you move into a new home, register for the CityPointe program to connect you with a local real estate agent. For every home bought or sold for $100,000+ with a CityPointe referred realtor, you will earn $5 per $1000 in cash back.
Tips for Moving to Greenville
Greenville is an increasingly cosmopolitan city with deeply rooted traditions of hospitality and friendliness. It's no wonder that Conde Nast ranked Greenville No. 3 among "Best Small Cities in the U.S." in 2017.
Greenville has some of the best schools in the entire state of South Carolina, so you'll have a number of great neighborhoods from which to choose. Before securing a new home in Greenville, be sure to check the rush hour travel time from any community you're considering. Locals are quick to comment that I-385 and Woodruff Road can be troublesome during peak commute times!
Getting Acclimated to Greenville
The beauty of Greenville and its proximity to so many wonderful attractions are almost too great to count. The immediate Greenville area offers easy access to more than 24 colleges and universities, 20 museums and numerous music and theater venues.
Greenville is the perfect city for outdoor enthusiasts. Some of the attractions you can enjoy include:
Walking or biking the 19.9-mile Swamp Rabbit Trail
Golfing at the more than 30 area courses
Sailing and fishing at the 56,000-acre Lake Hartwell
Looking for more outdoor adventure? Snowboarding, skiing or whitewater rafting are all within 50 miles!
Get your sports fix by cheering on the city's Single-A minor league baseball team, the Greenville Drive, at Fluor Field or our minor league ice hockey team, the Greenville Swamp Rabbits, at Bon Secours Wellness Arena. We also have several stock car race tracks for race fans. Without a doubt, the area's favorite college teams are Clemson University (down the road from Greenville) and The University of South Carolina (less than two hours away via I-385). The Carolina Panthers and Atlanta Braves' home fields are also just a short drive away.
For shopping and dining, downtown Main Street defines Southern charm with dozens of local stores and restaurants to explore and enjoy. When you're done, be sure to check out Greenville resident's favorite park, Falls Park on the Reedy, a 32-acre park adjacent to downtown in the historic West End district!
Our Greenville Movers in the Community
From helping build a home through Habitat for Humanity to participating in local industry and community associations, Hilldrup's Greenville office stays active in the community.
Some organizations we are active with include:
Hilldrup Greenville operates in full compliance with and under South Carolina authority for household goods carriers (SCPSC# 167-G).
General Manager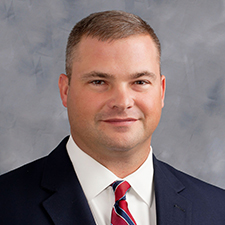 Billy Morrison
Billy Morrison is the Regional General Manager of Hilldrup Greenville & Charlotte.
Billy has over 20 years of industry experience, all of which has been with Hilldrup, serving as a Surveyor, Dispatch Operator and Operations Manager. Since 2010, he has overseen Hilldrup's Greenville location as the Vice President and General Manager before being promoted to Regional General Manager in 2019.
Billy has a bachelor's degree in political science from Clemson University.
Outside of Hilldrup, Billy enjoys playing racquetball and spending time outdoors with his wife and two sons. Billy and his family reside in Spartanburg, South Carolina.  
What Our Customers Are Saying
We've endured several corporate moves over the years, and we can say without a doubt, Hilldrup was the BEST to date! We were met with some unexpected circumstances yet they were prompt and helpful in accommodating our deadlines. This organization has very professional and caring staff in every department. The movers themselves were all friendly, punctual, and meticulous with our possessions. We even had our items put into storage for almost 2 months, but every single item was accounted for and in perfect condition upon arrival. They really took the stress of the move off our shoulders. There was a personal and authentic caring aspect we never got with any other movers. They really C-A-R-E! That's something you can't put a price on these days. We felt a review was important even if it can help just one person make the right decision.

Amy T.
Greenville, SC
Review from Yelp
This was one of our easiest moves; the 14th. Hilldrup is an excellent, professional and very helpful. From the packers, movers, driver and our customer service Jenny Craig. Thanks to all.

Nick M.
Greenville, SC
Review from Google