Hilldrup Celebrates Van Operator Appreciation Week Branch-Wide
We are so thankful for our essential, everyday heros - our Van Operators. We are honored to celebrate them every week, but especially this week!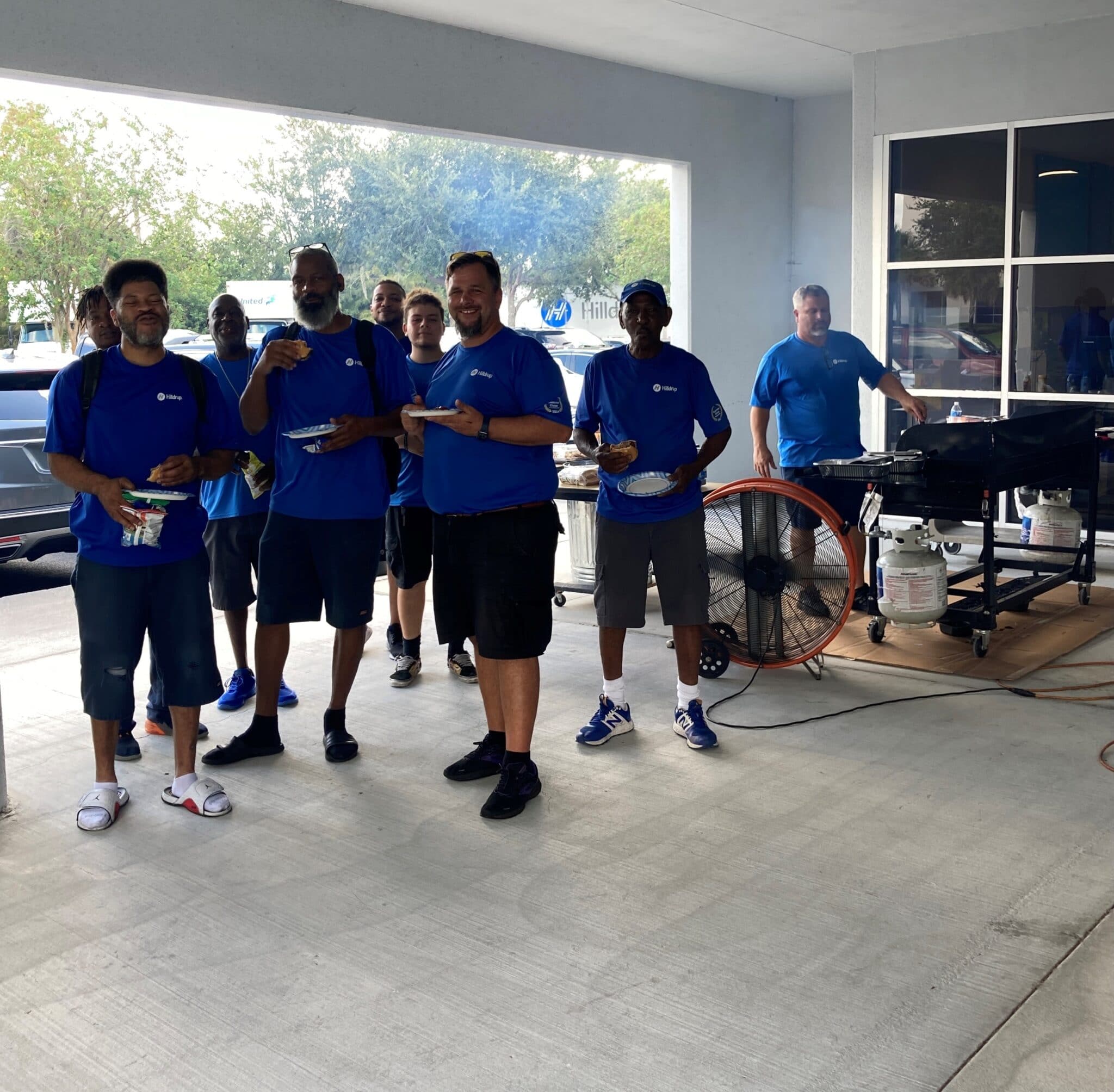 It's a week that the entire Hilldrup organization looks forward to every year: Van Operator Appreciation Week! From prizes to cookouts, there were plenty of ways we showed our appreciation and support of those who truly keep our operation and customers' goods moving. In 2021 especially, with a backlog of moves that were ready to take place coming out of 2020, our Van Operators have never worked harder to ensure that their performance in quality and safety are at the forefront of all they do.
At Hilldrup, every level of leadership, along with each branch and department within our organization, gladly participated in celebrating Van Operator Appreciation Week. In fact, each Hilldrup Van Operator received a personalized letter from our President and CEO, Charles W. McDaniel, thanking them for their service and commitment to our customers and organization.
The week was filled with plenty of raffle prizes and delicious meals as well! At Hilldrup's Capitol Heights, MD location, the week-long celebration consisted of Dunkin' coffee and treats, boxed lunches, snacks, a Chick-fil-A breakfast and a variety of items that Van Operators could win. Prizes included an iPad, Garmin Watch, Lowe's gift card, Wawa gift card and even a 50 inch TV. Congratulations to Gregory Spencer, a Class A driver, who won the 50 inch Samsung TV! Our Forestville, MD team celebrated with a breakfast spread for Van Operators and crew members to enjoy, and our Dulles, VA location provided breakfast and other snack items to their Operations personnel as well.
At our Stafford, VA headquarters, Van Operators and crew members were invited to stop by our Center for Employee Development to grab breakfast, snacks and drinks throughout the week to stay refreshed and hydrated.
Our professionals in Raleigh, NC took the opportunity each day of the week to celebrate. Monday, Van Operators received goodie bags, and on Tuesday, each Van Operator was given a $100 Mastercard gift card. On Wednesday a breakfast was provided and a "Pie the Boss!" competition was held, which gave the Van Operator with the best scores for August the opportunity to pie Dana Rose, Operations Manager, and Mike Nash, VP and GM, Raleigh, in the face! Mike Ingram, Jr. was the winner – congratulations, Mike! On Thursday, a second round of goodie bags were dispersed and on Friday, a cookout was hosted along with a raffle drawing prize of a YETI Tundra Haul. Congratulations to the winner of the YETI, Mario Erazo Reyes!
In Charlotte, NC, our team went above and beyond to ensure that there were plenty of food and prizes to go around! Their week included a breakfast of muffins and fruit, a RTIC Day Cooler 28 giveaway item, caddies full of hand-sanitizer, drinks and treats for the road, and breakfast from Bojangles. To wrap up the week, each Van Operator also received a personally written thank you card with an enclosed $100 gift card.
At Hilldrup's Greenville, SC branch, prizes included a $100 gift card for drivers and the opportunity to win a barbecue set – perfect for grilling, especially during the nice fall temperatures that are quickly approaching. A variety of fresh fruit and breakfast bars were also provided while a formal breakfast and boxed lunch was served during the week as well!
Our Atlanta, GA team fired up the grill to host a large cookout for Van Operators at the end of the week for all to enjoy a delicious meal. Employees ensured that our Operations team members were full and focused to take care of our customers' upcoming moves for the day.
At our Orlando, FL branch, a large cookout was hosted for Van Operators and crew members as well as a breakfast during the week. Our professionals spend so much time doing the heavy lifting for our customers – so ensuring they were fed and energized is very important!
It was truly Hilldrup's pleasure to celebrate our Van Operators and take this opportunity to recognize their outstanding success and unwavering commitment this year. We're thankful to each and every Van Operator who makes not only Hilldrup a trusted name in the industry but truly a great place to work as well. From the entire Hilldrup organization, we thank our Van Operators for all that they do and the many sacrifices they make – both on and off the road – every day!
Hear from Team Hilldrup in our own words! Listen to what our employees and leaders had to say about our outstanding Van Operators and what peak moving season looked like in 2021 by checking out our Facebook and Instagram account.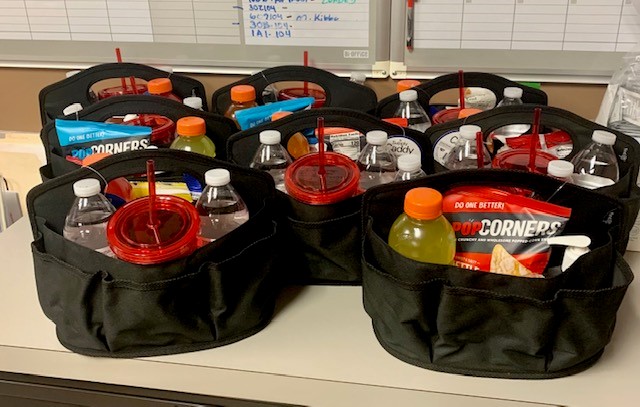 "It has been a collaborative effort," shared Dina Alexander, Office Manager – Charlotte, who came up with the creative idea of these giveaway caddies. "We are having fun doing all of these things for our drivers."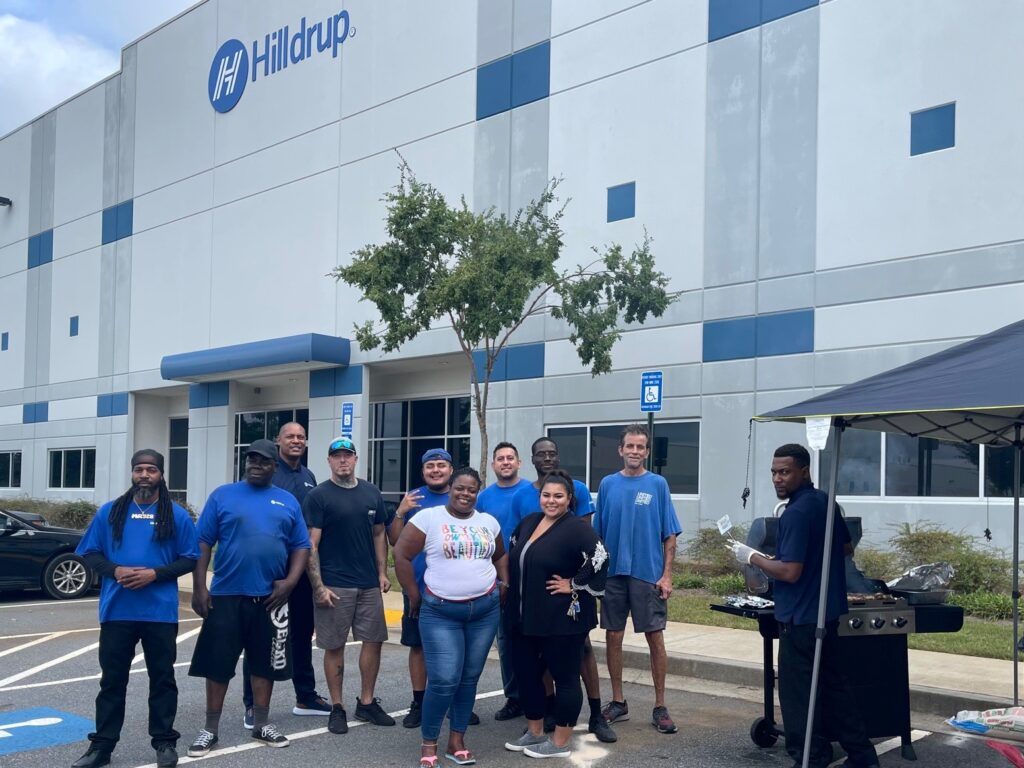 Our Atlanta, GA team fired up the grill for Van Operator Appreciation Week! Our team got together to ensure that our teams were fed and focused for a busy day of moves.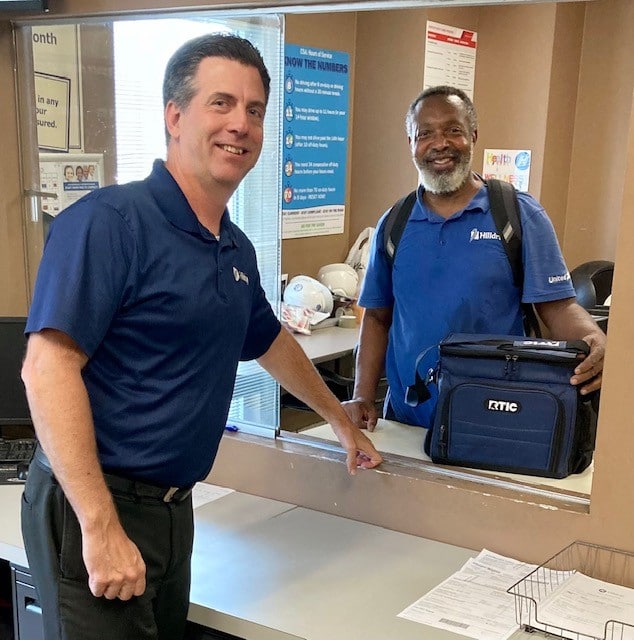 Hilldrup Charlotte's Chris Scheier, Senior Operations Director and Assistant General Manager, (left) and Anthony Anderson, Van Operator, (right) take a quick photo together during the week's festivities. Anthony was the winner of the RTIC Day Cooler 28 giveaway item – congratulations, Anthony!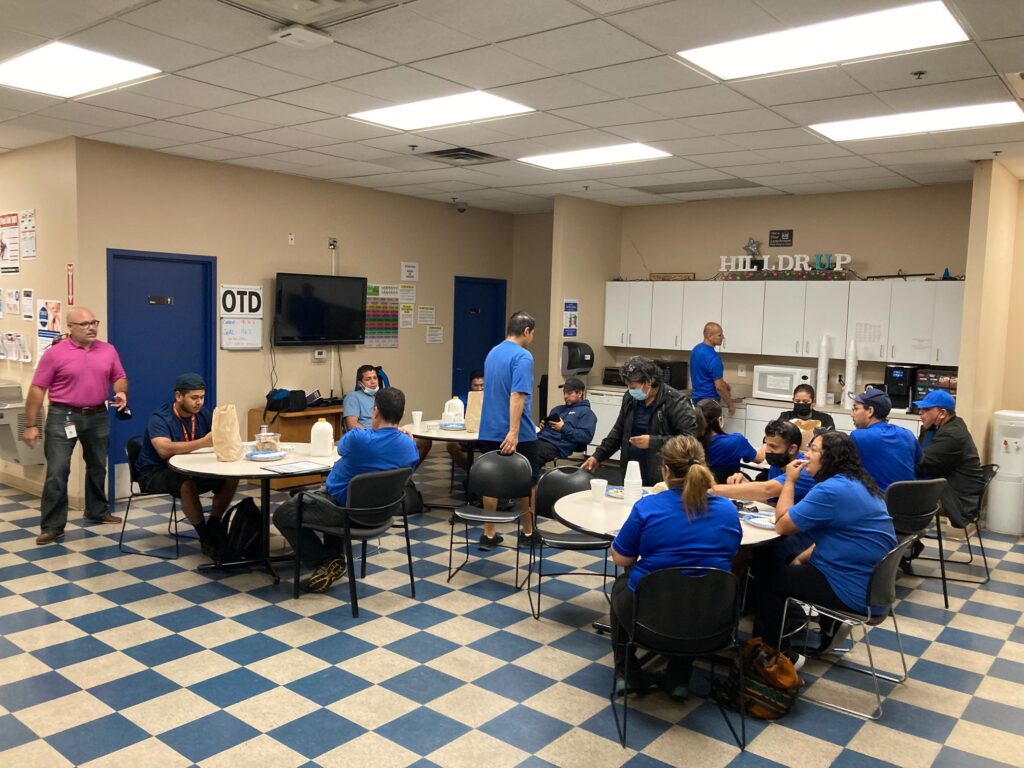 Hilldrup's Dulles team (pictured above) and Forestville team hosted a breakfast during Van Operator Appreciation Week to kick off the day for our hard working Van Operators and Operations personnel.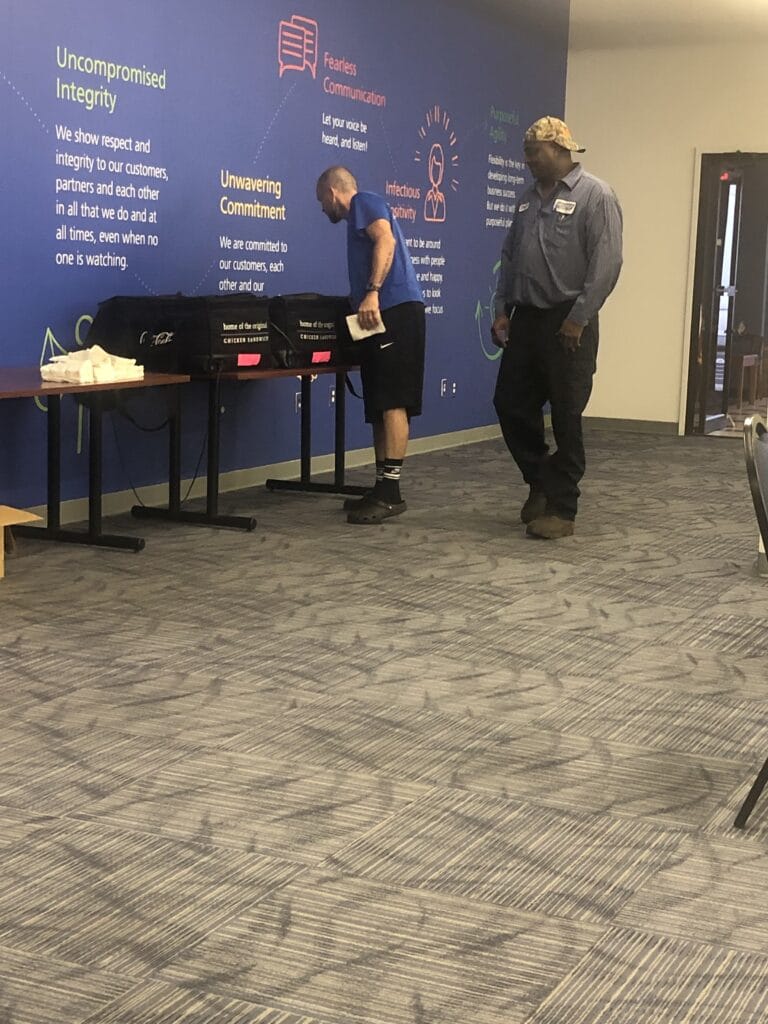 Van Operators and Operations personnel were invited to stop by Hilldrup's Center for Employee Development, located at our Stafford, VA headquarters, to grab some food and drinks throughout the busy work week.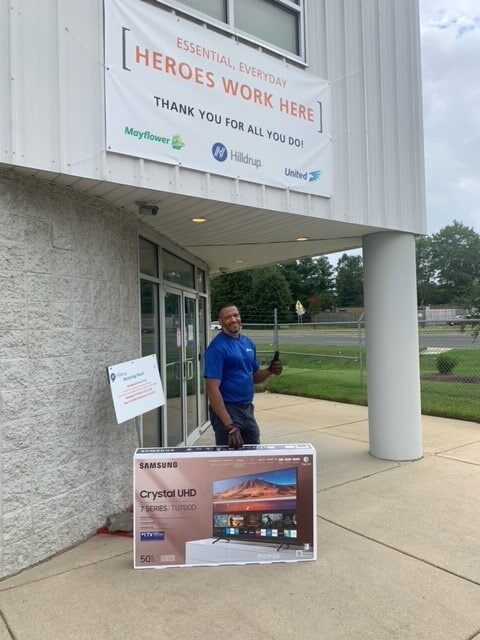 Gregory Spencer, a Class A driver, is pictured outside of Hilldrup Capitol Heights. Gregory was the winner of the raffled 50 inch Samsung TV – congratulations!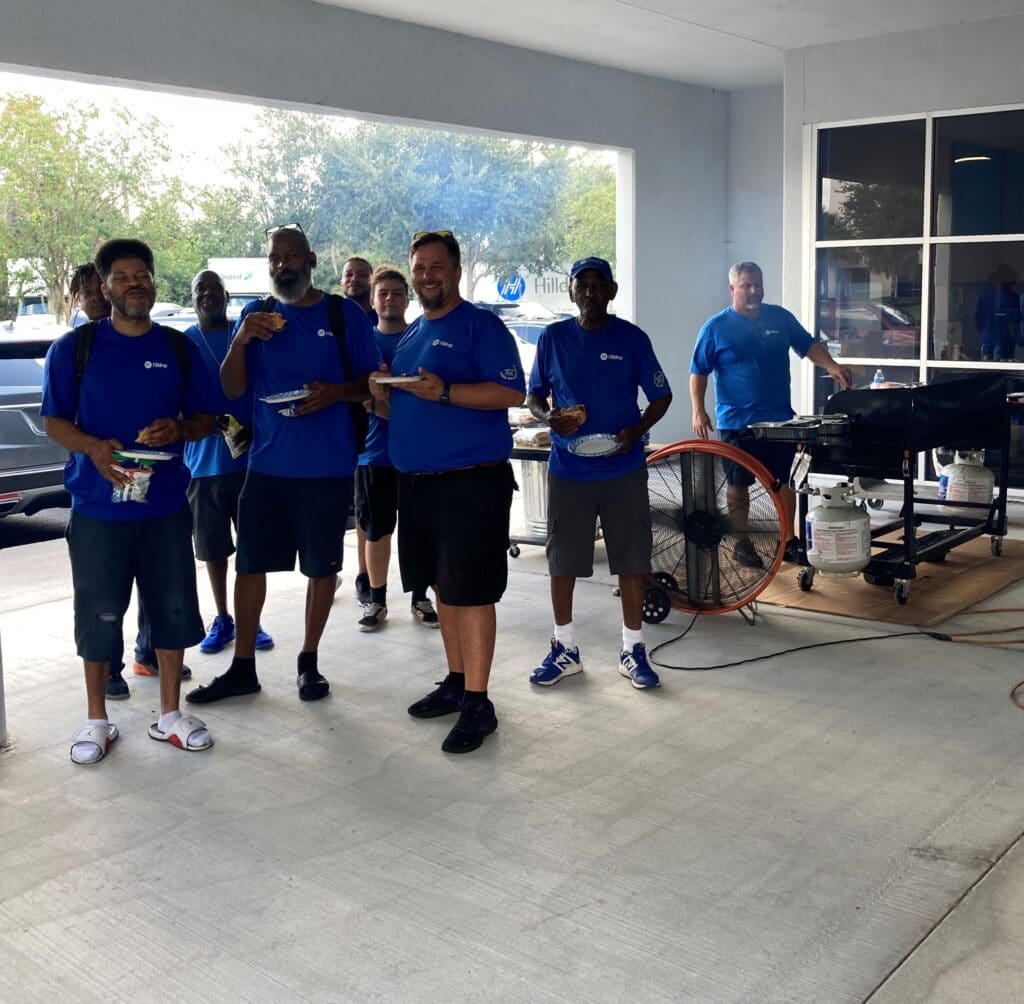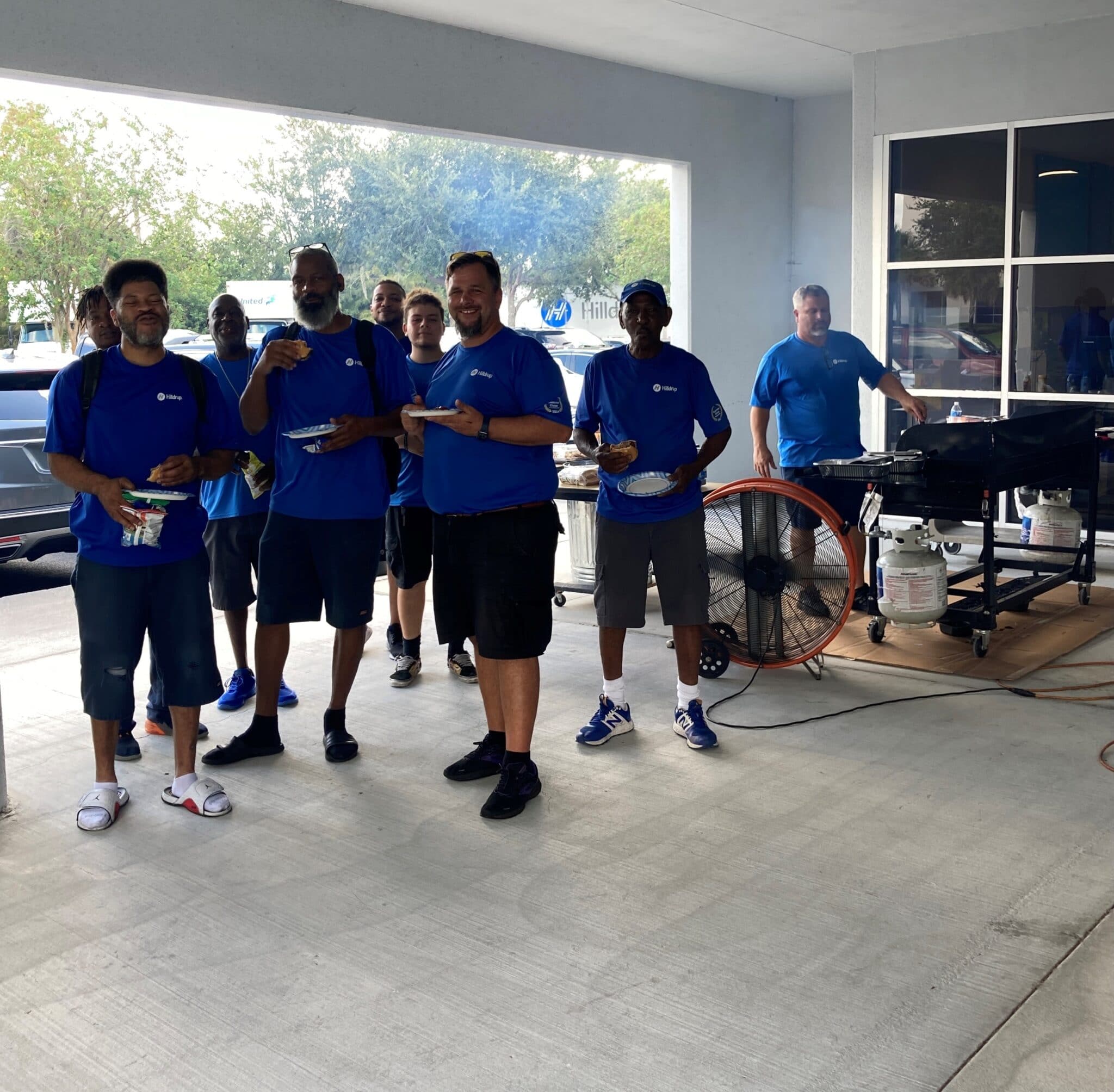 Hilldrup Orlando's team was all smiles while enjoying a cookout during Van Operator Appreciation Week. We were happy to see so many celebrations in honor of our Van Operators and all they do for our organization and our customers!
---